Folds
Original idea by Manolo Alcántara and Xavier Erra
Enfila't
Southbank Centre's Purcell Room
–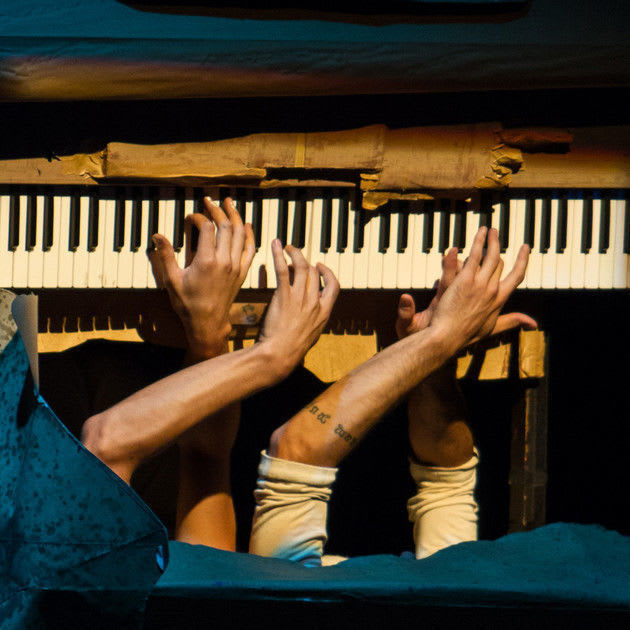 This inventive and engaging Spanish company of four who combine the circus skills of acrobats, tightrope walkers and clowns musicians specialize in doing things with paper.
But that's not all. They have some large-scale, lethal-looking rocking and gyrating apparatus that presents metal poles and wires, between which they present an exciting display of dangerous balancing and tumbling.
To that you have to add their prowess on a range of usual and unusual instruments from double bass to banjo, trumpet to tuba (actually it is probably a euphonium) and cellulose adhesive tape to a sheet of brown paper. They are also very, very funny.
They start with one performer painting out a duplicate set of black notes from a picture of a piano keyboard until there is a shout from the back of the auditorium where a head appear upside down beneath the technicians control box and then runs down the aisle to join him. Two others are discovered to be present too and soon they are at work with paper.
Their set seems to be made of huge sheets of cardboard and wrapping paper. On one side of the stage, a tree-like bough of cardboard rolls grows from a cardboard box bearing three microphones like hanging fruit. While two performers take paper and wield scissors to cut it up, another attaches sticky tape to his shoe and unwinds more from the role, twisting it to form a sort of string which, when plucked, becomes a musical instrument. Positioned by the microphones to amplify its sound, he's joined by colleagues on a rolled-up paper trumpet, and a tooting tube with clashing scissors as percussion.
Much of what they do is that simple, but it is consummately well performed and enchantingly engaging in the way it is presented and is matched by risky feats of physical skill and dexterity.
Pulling on a paper edge, a great length of wrapping paper is unrolled from a slot high in the scenery and stretched out above the audience's heads by a performer who climbs out along the seat backs. With the help of a member of the audience, he secures one end to a hook while the end on stage is attached to the shaft of an electric drill which then spins to twist it. This now becomes a rope equivalent attached to a secure part of the set and to a metal tripod on the far side of the stage from which a circular platform is suspended.
That is now the slack rope for a ropewalker. It amazingly supports the performer's weight—but topples the tripod. With colleagues on the platform disc to weight it down and playing bass, banjo and scissors, the slack-rope walker can now continue.
This zany quartet of performers is made up of Manolo Alcántara and Xabi Eliçagaray from Spain, Karl Stets from Denmark and Claudio Dorigo from Argentina, all multi-skilled. They work beautifully as a team, especially when, in contrast to the simplicty of much of the show, they perform a thrilling display of balancing and ducking and diving around their moving and lethal-looking giant apparatus, which sometimes seems to threaten the audience as much as them.
Whether putting life and limb at risk or clowning, disappearing into cardboard boxes or engaging in a paper ball battle with the audience, they thrill at the same time as being funny. Folds makes a delightful Christmas treat for everyone of any age.
Reviewer: Howard Loxton