Folk
Nell Leyshon
Hampstead Theatre / Celia Atkin
Hampstead Theatre Downstairs
–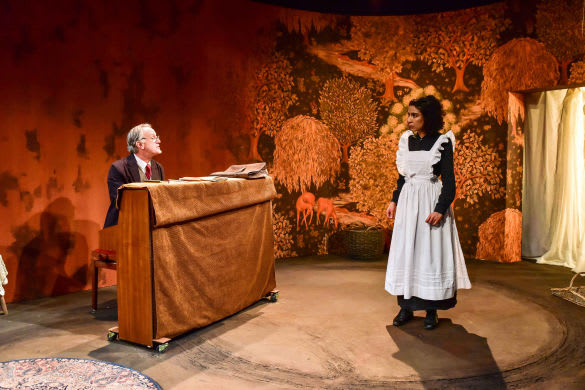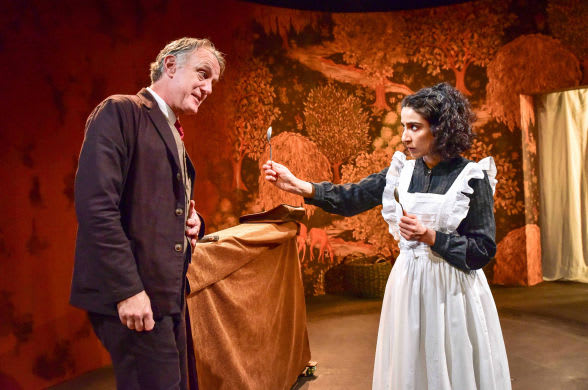 Folk was inspired by the work of Cecil Sharp in collecting English folksongs and by the people who sang them but Nell Leyshon hasn't written a documentary drama, it is a fictionalised version of Sharp's 1903 visit to the Somerset village of Hambridge and what followed from it. The play's production at Hampstead was delayed by the COVID pandemic and in the interim the play was broadcast on BBC Radio Three. Now it gets a full staging directed by Hampstead Theatre's Artistic Director Roxana Silbert.
Sharp (played by Simon Robson) bemoans the lack of a major composer in English music since Purcell, making her known as "the land without music," but he wants to believe that is wrong, that England has its own indigenous music and comes in search of it. At Hambridge, he finds half-sisters Louie and Lucy in whose heads is stored a great repertoire of folk song unknown to Sharp's world of concert music, songs that have been passed down by their mother who is newly buried.
Glove-making provides Louie and Lucy with a precarious living but their cottage industry is being overtaken by factory products. The countryside and their way of life are changing. Oral traditions are in danger of disappearance as literacy becomes more general.
The production opens with a flurry of folk dance and music that leaves Louie on stage on her own. Too upset to attend her mother's wake, for the first time in her life, she has had to spend the long night without any company. When Lucy eventually gets home, it is clear she has had a high old time with a man, John, the girls' go-between with the glove dealers, who also works at the local rectory.
Real life Louie and Lucy would be in their early 40s and 50s and living with children in 1903, but the characters based on them are young women sharing a home. Louie isn't literate, lameness interfered with her schooling, and has led a very sheltered life. She is out of her depth when she is packed off to be a maid at the rectory, Sharp's arrival requiring additional help there, but his meeting with her brings their two worlds together as they share their love of song, both feeling it as part of their being.
Sharp hopes that folksong will feed his own development as a composer while Louie is fascinated by the idea that music can be written down on paper and others then read it and she is amazed by the passages from classical composers he plays on the piano.
Louie is intimately involved with the natural world around her and her songs are closely linked with particular places, one line with one side of a field, the next at the corner. She hears tunes in birdsong, rhythms in rain on the roof. When Sharp attempts accompanying chords, she wants a sound like sap rising as she sings of high trees, when there is green in a line she wants to hear spring green, not the autumn green chord that he plays.
The sisters' songs are threaded through the play and delightfully sung, but, while Sharp seeks to offer them to the world and expects Louie and Lucy to welcome the book in which he presents them, it doesn't acknowledge that they are their songs, their mother's songs. In a world where industrial development and enclosure is taking country lives away, is he stealing their songs too?
Designer Rose Revitt's setting contrasts the simplicity of their lives with their home furnished only with stools and their glove frames while a wall like a medieval tapestry of woodland and wildlife suggests Sharp's romanticised view of a history and a land that he thinks of as England.
However warmly Robson's Sharp may seem to treat Louie, his sense of class and his own superiority are clearly evident. Lucy is a realist, she knows exploitation when she sees it, but Sasha Frost also makes sure we see the hurt she is hiding, not just in her relationship with John (Ben Allen) but in the special attention their mother gave her sister. These are all fine performances but it is Mariam Haque's gentle Louie, commanding attention in her stillness, who becomes the pivot of the play, making her own stand about what she feels about her songs and their ownership.
Reviewer: Howard Loxton