Follow
Dameon Garnett
Finborough Theatre
(2008)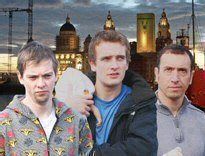 This three-hander presents us with two sixteen-year-old lads in Liverpool, one a local scouser, the other fleeing from asbo threats in Portsmouth, both at a point where life's challenges are beginning to be too much; the father of one of them and six-week old Nathan. It is both a critique of their generation and a vote of confidence that they'll turn out all right: responsibility is something their generation seems a little late in learning.
Reece is living with his mum, who has moved up from Portsmouth too. He doesn't have a proper job and his mother seems to be encouraging him to get mixed up on the fringes of crime and the drug trade while. Blake has just been chucked out by his girl-friend's mother and is trying to move back in with his widowed dad - and he's also the father of little Nathan.
Adam Redmore and Oliver Gilbert do look a little mature for sixteen-year olds - but then so do most teenagers to an older generation - but they play them beautifully, aided by dialogue that sounds totally natural: Dameon Garnett has a real ear for vernacular speech. Both text and playing capture that balance between lads feeling so grown up, yet so lacking in experience and unaware of just how much they rely on others and take their help for granted.
These a fine performance too from Paul Regan as Blake's father Gary, who's learned from bringing up his own son and is ready to pass on his baby-caring skills when Blake finds himself taking care of Nathan. Her is a father prepared to endanger the relationship he is building with a new woman friend to do the right thing by his son. While the boys have dreams of a new life in Australia taking in the rays on Bondi, Gary works in the meat market and tries to guide his boy.
While the boys are driven to desperation and tragedy looms, this is a play that celebrates real family values (not necessarily the ones the politicians go on about) and the humanity at the core of each of us, and does so with plenty of laughs along the way. Its short scenes rapidly replace each other in half blackouts supported by a well chosen mix of pop music and effects that are a reminder of the busy life of the seaports both boys come from and their hopes of travelling far, and Ken Alexander's direction achieves a spontaneity of playing that keeps the audience constantly engaged. Congratulations too to whoever voices the very lifelike cries of the very life-like baby Nathan. This is a play that will say a lot to youngsters without ever being preachy and oldsters may see much of their old selves in it.
Until 22nd November 2008
Reviewer: Howard Loxton