Food Court With the Necks
Bruce Gladwin, Mark Deans, Rita Halabarec, Nicki Holland, Sarah Mainwairing and Scott Price
Back to Back Theatre
Barbican Theatre
(2010)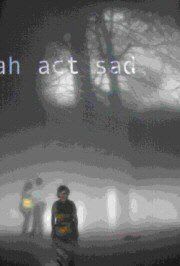 Part of LIFT 2010, this is a quite disturbing piece from an Australian company based in the small town of Gellong, about fifty miles from Melbourne, that we saw a couple of years ago presenting Small Metal Objects in Stratford East Station. That took place among the commuters but was watched from a distance and heard on earphones: scarcely your traditional theatre.
This show doesn't match usual expectations either, but this is no ordinary company: it describes itself as 'driven by a core ensemble of artists with intellectual disabilities,' which is sometimes apparent from the appearance or behaviour of its performers.
The performance begins with a torch guiding the three musicians of The Necks down to the pit and then, as we sit in darkness, they play a haunting overture that is gentle and calming. The event is being promoted as 'part concert, part show' so be prepared to wait a little while before anything happens on stage. When the lights do go up it is to reveal a set of blacks through which Mark Deans appears to carefully place chairs on their marks, followed by Scott Price who helps, then two fat females, Nikki Holland and Sonia Teuben, followed by thin Sarah Mainwaring who seems to have a handicap that affects her motor control.
The fat ladies, speaking into microphones held by the men, begin a banal conversation about food but this escalates into them verbally abusing the thin woman whom they declare is fat. Their speech, though loud, sometimes distorts a word and a text version is projected faintly onto the blacks. One of my pet hates is actors talking into microphones instead of communicating with other actors or the audience but this becomes in itself a representation of the communication difficulties these people have.
The thin woman sits, hands shaking and silent as the bullying abuse intensifies, flung across the full width of the stage until they leave and the mics and chairs are cleared leaving Dean to haltingly describe (the titles appearing equally spasmodically) how they pass through the town and beyond into the woods, and now the curtains open on a gauze (in fact it is a plastic sheet) behind which dim shapes can be made out..
Some of my earliest memories of theatre are of beautiful pictures painted gradually in light behind a gauze but this is no romantic vision. This is a frightening space however scenically attractive it may sometimes appear in moments when it is revealed as beautiful landscape. Already I am thinking of the murder of little James Bulger and its bullying schoolboy perpetrators.
Sometimes we see the mike boom still being wielded and the texts are still projected for us, now easy to read: while we cannot clearly see what is going on, we can clearly hear and read it.
What follows is horrible but the dimly seen silhouettes and shadows, the constantly changing patterns of light are beautiful at the same times as they are frightening. The thin woman, picked out with a slight glow of light, is humiliated and beaten and, when the other women leave, sexually abused by a boy who is trying to understand something about his own sexuality. This could be a necrophilic rape but when at last the boy has gone the woman finds a voice and in fragmented words delivers Caliban's beautiful speech from The Tempest: 'the isle is full of noises ' The delivery brilliantly matched in title images.
Throughout the jazz trio (Chris Abrahams, Tony Buck and Lloyd Swanton) have escalated from their gentle opening through the most disturbing music to horrifying crescendo. They have provided an emotion charge on which the performance is carried, even though our attention has been on the on stage performers.
I am still trying to work out the significance of using those words from Shakespeare but I do know that this was one of the most disturbing experiences I have had in the theatre, its impact reinforced by the disability of the performers. Director and designer Bruce Gladwin and his company put their audience through a gruelling 70 minutes but offer an experience not to be missed.
At the Barbican until 25th June 2010
Reviewer: Howard Loxton