Footloose the Musical
Book by Dean Pitchford and Walter Bobbie
Selladoor Worldwide, Runaway Entertainment and Jason Haigh Ellery
York Theatre Royal
–

Listing details and ticket info...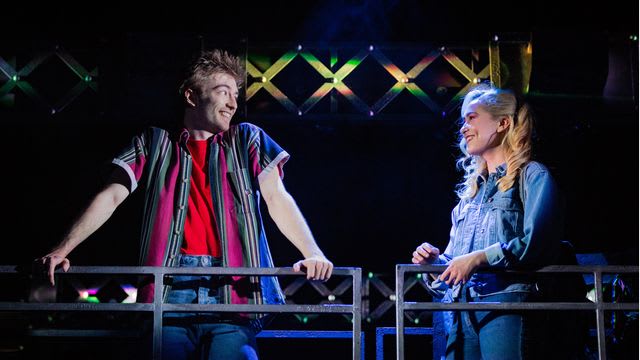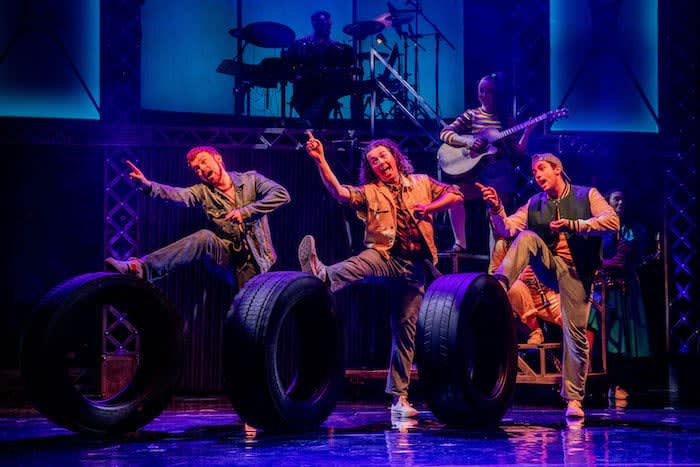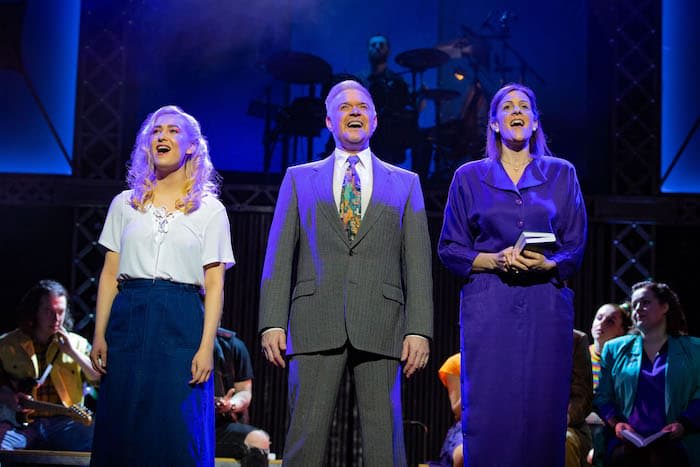 When I hear the title Footloose, I immediately think of Kevin Bacon dancing out his pent-up frustration in a darkened warehouse. While the 1984 film is no classic, this scene occupies the same iconic territory as the death-defying lift in Dirty Dancing or Richard Gere picking up Debra Winger at the end of An Officer and a Gentleman. Incidentally, both of these films have also received the stage musical treatment, but Footloose the Musical—which was first performed in 1998—predates them both.
Like the film, Footloose the Musical tells the story of a teenage rebel, Ren (Joshua Hawkins), who moves to a rural backwater with his struggling single mother (Geri Allen). He soon befriends Willard (Jake Quickenden), a short-tempered numbskull with a heart of gold, and falls under the spell of the free-spirited Ariel (Lucy Munden).
However, Ren's dreamgirl is also the daughter of the local preacher, Reverend Moore (Darren Day), who has implemented a law banning dancing and rock music following the tragic deaths of four local teenagers. Over the course of two and a half hours, we watch our young hero coax life back into the sleepy town of Bomont, climaxing in a delirious celebration of dance and song.
I have seen numerous stage musicals based on beloved films, running the gamut from the sublime (A Little Night Music) to the ridiculous (Dirty Dancing was a particular low point). Footloose sits comfortably in the middle, offering more than just an empty replica of the original film. It may not be profound, but there is something heart-warming about the show's uncynical belief in the power of art and self-expression.
Unlike some other film-to-stage musicals, Footloose doesn't rely on a jukebox approach; instead it combines songs from the original soundtrack with new material. For the most part, however, it is the established numbers such as "Footloose", "Let's Hear it for the Boy" and "Holding Out for a Hero"—all co-written by Dean Pitchford—which have the greatest impact, particularly when married to Matt Cole's energetic choreography. Less effective are the show's more character-driven songs, such as "Learning to Be Silent" and "Can You Find It in Your Heart?", which mostly feel like filler between the show's crowd-pleasing numbers.
The ensemble cast play their parts with considerable vitality and commitment. Joshua Hawkins brings a goofy charm to the role of Ren, and he is nicely matched by Lucy Munden. Reality TV star turned actor Jake Quickenden gives a game performance as Willard, and Darren Day is surprisingly understated as the town's authority figure. I recently saw Day as the thoroughly amoral Billy Flynn in Chicago and his versatility is impressive. The rest of the ensemble are also strong, regardless of whether they're singing, dancing or playing musical instruments.
Sara Perks's retro costumes successfully capture the eighties spirit, and her mobile set designs provide a versatile performance space for the actor-musicians. Racky Plews's direction is slick and assured, ensuring that the pace never drops.
Footloose surpassed my expectations, and audiences looking for some light-hearted escapism could do much worse.
Reviewer: James Ballands