Footloose
Stage adaptation by Dean Pitchford and Walter Bobbie, based on the original screenplay by Dean Pitchford
Music by Tom Snow, lyrics by Dean Pitchford.
Additional music by Eric Carmen, Sammy Hagar, Kenny Loggins and Jim Steinman Empire Theatre, Sunderland, and touring
(2007)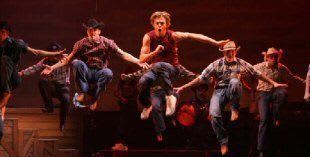 It's three years since I last saw Footloose and found it wanting. This time round its weaknesses remain the same - weak storyline and weaker characterisation - but its strengths are greater.
The strengths are in the performance. We have a Ren (Derek Hough) and an Ariel (Miria Parvin) of exceptional quality, and they are supported by a cast whose energy, drive, athleticism and sheer dance talent are extraordinary. Giovanni Spano, playing Ren's friend Willard, has a great comic sense whilst Julian Agnew (Rev Moore) and Lyn Paul (Vi Moore) manage to bring more to their characters than the text would suggest. I have to say, too, that Nikki Belsher (Ren's mother) did the seemingly impossible - she made the character both believable and sympathetic.
But it is Karen Bruce's choreography, coupled with its delivery by the cast, which makes the show and which got tonight's audience excited and on their feet at the end. The routines are complex, usually involving all or combinations of almost twenty dancers, fast and furious and accompanied by singing which is incredibly strong given that the dancers are also the singers.
Morgan Large's set and costumes - surely the girls' costumes would be anathema in the Bible Belt setting? But what the hell, they (and the girls in them) looked great! - are effective and well complemented by James Whiteside's lighting. Visually and in terms of the performance the show is stunning, and it certainly gave its audience what they wanted. The Empire audience loved it and it will no doubt be equally successful wherever else it goes.
Touring to Nottingham, Southampton, Rhyl, Darlington, Wolverhampton, Sheffield, Canterbury, Bromley, Leeds and Cheltenham.
Reviewer: Peter Lathan