Footloose the Musical
Stage adaptation by Dean Pitchford and Walter Bobbie, based on the original screenplay by Dean Pitchford; Music by Tom Snow, lyrics by Dean Pitchford; Additional music by Eric Carmen, Sammy Hagar, Kenny Loggins and Jim
New Victoria Theatre, Woking, and touring
(2006)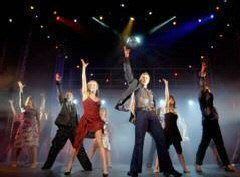 I recently saw the latest Saturday Night Fever extravaganza and found it wanting. As a music and disco dance show it succeeded well, and the largely teenage audience appreciated the chance to scream and shout at the overtly sexy hip swivelling antics of the dancers, but that was the sum total of its appeal – so I was expecting much the same from Footloose. Wrong again! This show, while still excelling in the singing and dancing department, has heart!
Based, we are told, on a true story, and taken from the 1984 teen film of the same name which shot many of the participants (including Kevin Bacon) to fame, this is a story of teenage youth rebelling against authority - authority, in this case, being the preacher Shaw Moore who, in a effort to protect children from the evil effect of drugs and alcohol, includes disco music and dancing in his list of iniquities. The town accepts his ruling, which is also enforced by the school Principal (Martin Johnston) and the youngsters have learnt to live with it, but when the boy Ren arrives from Chicago with his trendy dance moves, he cannot believe what he is hearing and leads the youth of the town in a revolt against the rule, aided and abetted by the minister's own daughter who has been longing to escape from the town and its restrictions.
The minister could have been portrayed as a caricature or a kill-joy adult exulting in his authority over the exuberant teenagers, and threatening eternal damnation, but in Stephen McGann's sensitive portrayal he becomes a true family man, grieving for a son lost in a tragic drug-related accident and determined to prevent anything like that happening again. His anxiety to protect his daughter (and all the other children) is heartfelt, and his helpless bewilderment when he finds he cannot even control her whereabouts will strike a chord with many a parent, while daughter Ariel (Lorna Want) displays all the frustration of a teenager trying to assert independence, and sings beautifully too. The story may be slim, but it is performed with a depth of feeling which draws us in, and creates an empathy with the characters.
The music is mostly the chart-topping songs from the film and it is here that I have my one complaint .the volume .. which is at such a level that it often drowns out many of the lyrics, the vocalists having to shout, and the bass is so overwhelming that the vibrations are almost painful. Get that fixed and it will have my vote as one superlatively enjoyable show!
Derek Hough is Ren, and his dancing talent is sensational, combined with a good singing voice (even while dancing), outstanding acting expertise and having a thoroughly likeable personality to boot. He roller skates too – a young man of exceptional talents. In fact the whole cast - under Karen Bruce's excellent choreography and direction - are exceptional, performing with an energetic, enthusiastic joyousness which had the whole audience on it's feet at the end, not able to resist joining in.
Cheryl Baker – originally of Bucks Fizz fame – is the Minister's wife, Vi, and Rev. Shaw Moore unbends enough at the finish to rip off her skirt, in a re-creation of the moment in the Eurovision Song Contest which must have stayed in the memories of teenage boys for ever.
In supporting roles Giovanni Spano excels as the tongue tied, mildly aggressive, slow-witted Willard Hewitt with amazing dancing agility, ably accompanied by Stevie Tate-Bauer as his girl friend, Rusty (when she finally gets him to speak to her).
Now on its second national tour (and with a completely new cast), this is an unexpectedly delightfully enjoyable show. Only Plymouth to go, then opening at the Novello Theatre in the West End of London on 18th April.
Read Sheila's interview with Stephen McGann
Bronagh Taggart reviewed the West End production
Reviewer: Sheila Connor