For All The Lost You Lost

Morosophy Productions
theSpace @ Surgeons Hall
–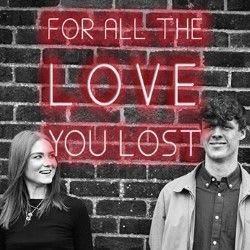 For All the Love You Lost is set during a single evening, with a young couple, Alex and Harriet, embarking on their first date. Each of them has various anxieties about it and relies upon a support network of friends, family and sound advice to face up to the ever-changing situations.
This piece is openly advertised as epic theatre, and it fits the style well, suffused with physical theatre, dance and direct audience addressing, accentuating the scenes taking place, or the narration that occasionally peppers the moments. There are often moments throughout where characters will step aside from a scene to monologue in poetic script, or move out of a scene momentarily into a flashback.
It's an intriguingly told story, and Morosophy should be complimented on their commitment to the experimental nature of the piece, even if the culmination does feel unfinished in some ways. There's some lack of polish in a few scenes and an unbalanced feel to the delineation of some characters, leading to the piece feeling ultimately unsatisfying and lacking the same punch and wonder that the play opens with.
Reviewer: Graeme Strachan