For Black Boys Who Have Considered Suicide When The Hue Gets Too Heavy
Ryan Calais Cameron
The Royal Court Theatre, Nouveau Riche and New Diorama Theatre
Apollo Theatre
–

Listing details and ticket info...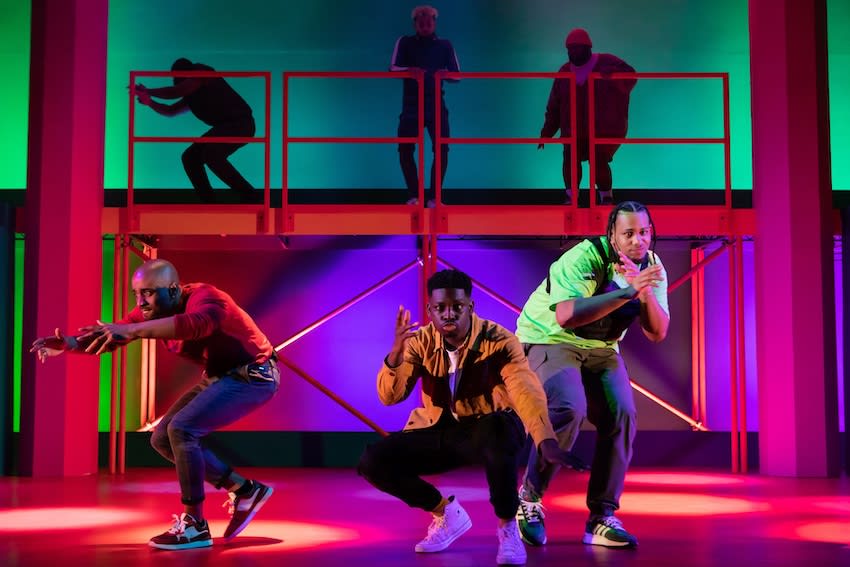 After a première at the New Diorama and a transfer to the Royal Court in 2021 For Black Boys… has now opened in the West End directed by its writer, Ryan Calais Cameron.
Initially inspired by Ntozake Shange's For Colored Girls Who Have Considered Suicide / When the Rainbow Is Enuf, it sets out to tell what it is like to be young, black and British and to help give them a better understanding of themselves. Six characters tell their stories. They are unnamed in performance but the programme identifies them as Onyx (Mark Akintimehin), Pitch (Emmanuel Akwafo), Jet (Nnabiko Ejimofor), Sable (Darragh Had), Obsidian (Aruma Jalloh) and Midnight (Kaine Lawrence): all names to suggest blackness.
For Black Boys… takes the loose form of a group therapy session, with individuals each telling their own story, though the sharing circle survives only briefly as telling turns to enactment and interaction, and when words aren't enough, it turns into song or explodes in dramatic movement.
That is how it begins with a tangle of bodies, black biceps glistening in the blue light that picks them out from the darkness, outstretched limbs slowly unwinding until, as the music turns to a menacing stamping, movements become violent and a body lies on the ground. When the others have gone, Jet rises to dance an expressive solo, choreographed as throughout the show by Theophilus O Bailey.
Now things move on to the therapy session sharing, and Jet begins a look back to childhood when, as a six-year-old schoolboy, he wanted to be white because it was a white boy all the girls seemed to be with. When do you realise that you are different?
The importance of the role played by fathers is graphically illustrated in the contrast between the gentle parent encouraging reading and the heavy-handed tough guy, like Onyx's dad, no wonder he grew up full of aggression, though even the gentle dad is so caught up with ideas of masculinity that he hides the fact that he has prostate cancer.
Better educated, middle-class Obsidian argues for more awareness of African history, of characters like the Moor Tariq, conqueror of Iberia, whom he made his role mode, instead of an emphasis on centuries of slavery.
How should you handle police stop and search, first experienced by Sable at 13? Do you believe in love? What is it like to be black and gay? Have you ever felt suicidal? It isn't just whites who inflict injustice; black can treat black badly too. The play raises far-ranging questions and calls up raw emotions, but does so with humour as well as strong feeling.
Cameron's text, which often breaks into verse with multiple rhyming, tells it like it is, as is confirmed by the recognition shown by the audience in their reactions and laughter—and the audience I saw it with seemed fifty per cent people of colour. It was great to see them there.
This mixture of words, music and dance, with Nicola T Chang's sound design and Rory Beaton's multiple lighting cues beautifully timed, has plenty to say and does so through a piece of stimulating theatre. But you don't have to take my word for it. I am a white guy and no spring chicken, not exactly its target audience, but those around me who were enthusiastically endorsed it. This is one not to be missed.
Reviewer: Howard Loxton