For King and Country
John Wilson
Dilated Theatre
Southwark Playhouse
–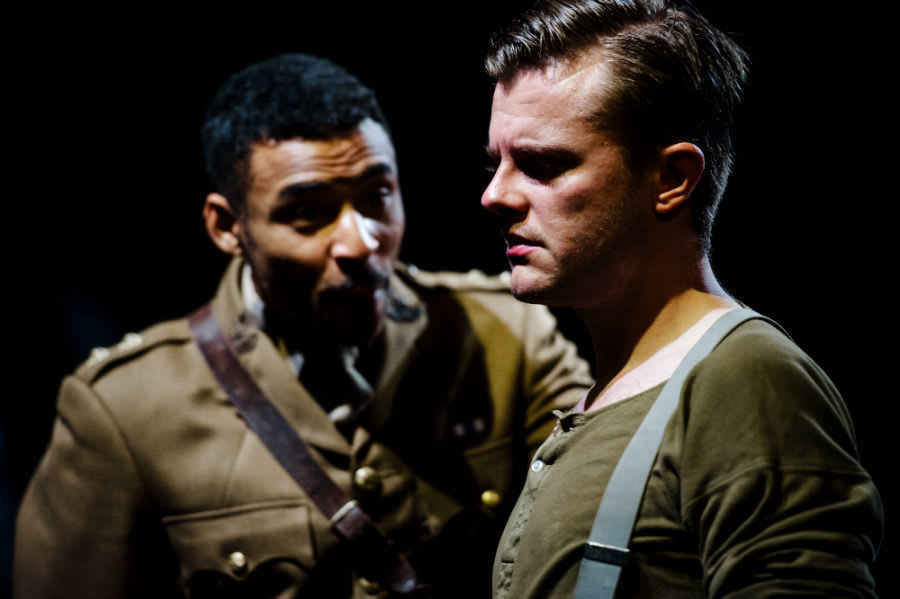 Private Hamp (Adam Lawrence) picked up his helmet and rifle and went for a walk.
Vaguely, he knew something had to be done about the disturbing memories that were stopping him sleeping brought on diarrhoea and left him shaking uncontrollably.
He had spent three years on active duty in the 1914-1918 war and was the last of those he joined up with still alive. A friend from the same town had recently been blown up, covering Hamp in parts of his body.
Things come to a head when he is blown into a mud-filled shell hole that almost drowns him.
He knew he had to see a doctor about his nerves, but the doctor's solution is to give him laxatives.
So Private Hamp picks up his helmet and rifle and goes for a walk. And as the sound of the guns fade, so also do his symptoms. But he is charged with desertion, the punishment for which could be death.
These are things we learn about Private Hamp during his imprisonment and trial which form the content of the play set amongst the wooden walkways and sandbags of a military encampment not far from the frontline.
Occasionally, we hear the sound of artillery. Between scenes, there is a sudden brief, well-choreographed shock of troops moving under fire from one point of the stage to another.
Adam Lawrence gives an innocent, honest dignity to Hamp that impresses the audience as well as the other characters.
Lloyd Everitt plays the officer Hargreaves who is tasked with presenting the defence as initially impatient and curt but increasingly sympathetic with Hamp.
It is the officers who conduct the arguments and they at times talk about Hamp the former mill worker as if he is another species, and one the irritable and overworked medical officer O'Sullivan (Andrew Cullum) has little time for.
Dilated Theatre's engaging production moved some in the audience to tears, its thrust stage allowing us to see the responses of those sitting opposite.
Officially, some three hundred and six British soldiers were executed by the British army but we will probably never know the true number.
It was just one more factor by 1917 that generated serious rebellions in the armies of Britain, France and Russia forcing officers to regard soldiers differently and threatening the very existence of regimes that arrogantly sent men to their deaths for wars that were only intended to benefit the rich.
Reviewer: Keith Mckenna