For Love or Money
Blake Morrison, based on the play Turcaret by Alain-René Lesage
Northern Broadsides
West Yorkshire Playhouse, Leeds
–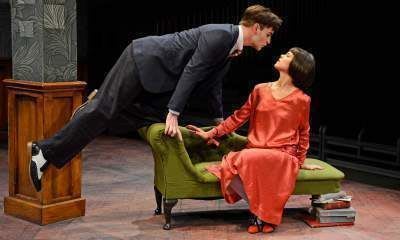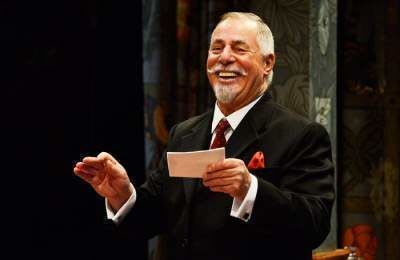 "Everyone loves to prey upon his fellows; it is a universal principle, though variously exerted".
This quotation is taken from Alain-René Lesage's picaresque novel Gil Blas (1715–1735), in which an unscrupulous valet gets the better of his masters. However, it could just as easily have been plucked from his earlier play Turcaret (1709), which has been freshly adapted by Blake Morrison for his eighth collaboration with Northern Broadsides.
Turcaret is a black comedy about greed, corruption and deception, in which most of the characters are self-interested manipulators looking to put one over on their fellow man. Set during the reign of Louis XIV, a period where royally appointed tax collectors were charged with fleecing the poor and downtrodden, Lesage envisages the world as an intricate web of exploitation and manipulation—a human food chain, if you will.
In For Love or Money, Morrison moves the action from 18th-century France to a small Yorkshire town in the 1920s. Rose (Sarah-Jane Potts), a wily young widow, entertains the advances of two suitors. The first, Fuller (Barrie Rutter), is a crooked bank manager of advancing years who attempts to woo Rose with expensive gifts. The second, young Arthur (Jos Vantyler), is a handsome and penniless conman.
The three characters are locked in a strictly transactional relationship: Fuller gives money and baubles to Rose, who in turn gives them to her darling Arthur. The latter conspires with his trusty manservant, Jack (Jordan Metcalfe); little does Arthur know, however, that Jack hopes to cheat his master out of his ill-gotten gains.
As Morrison states in his interview for the British Theatre Guide podcast, any play that deals with greed, opportunism and corruption will have a contemporary relevance. For Love or Money is a bracingly cruel play and all the better for it. The unsentimental nature of the material lifts what could have been a genial farce into something altogether more interesting.
One of the chief delights of the production is Morrison's wonderful use of language, which results in a rich stew of recognisable and archaic Yorkshire dialect ("chatter-watter" for tea, "nip-cheese" for miser). Although the dialogue is occasionally difficult to fathom, the play benefits hugely from its linguistic vibrancy.
The cast cope well with Morrison's pungent dialogue, delivering robust comic performances. Barrie Rutter is a model of pompous complacency as the fraudulent bank manager.
With her Louise Brooks hairdo, Sarah-Jane Potts strikes the right note of amoral insouciance, and Jos Vantyler endows Arthur with a queasy charm. Jim English and Jacqueline Naylor excel in the roles of Martin (a local farmer) and Marlene (Rose's stubborn housekeeper, Marlene), wringing every drop of humour from Morrison's Yorkshire vernacular.
Jordan Metcalfe brings formidable energy to the part of Jack, the play's ostensible hero, conveying Iagoesque glee at the prospect of swindling his supposed betters. There is also fine work from Kat Rose-Martin, Martin Booth and Sarah Parks, all of whom make a big impression in smaller roles.
Jessica Worrall's set design provides an uncluttered performance space in which the actors can perform Beverley Norris-Edmunds's energetic choreography. The image of a chaise-longue propped up by books lets us know that this is a fine household fallen on hard times, as do the light patches on the wallpaper where Rose's paintings once hung. That being said, the production felt dwarfed by the cavernous space of the Quarry Theatre at the West Yorkshire Playhouse.
Barrie Rutter recently announced his decision to retire as artistic director of Northern Broadsides after 25 years, so For Love or Money may be one of his last productions for the company. If so, it's a fine way of bowing out.
Reviewer: James Ballands