For Reasons That Remain Unclear
Mart Crowley
King's Head Theatre and Debbie Hicks
King's Head Theatre
–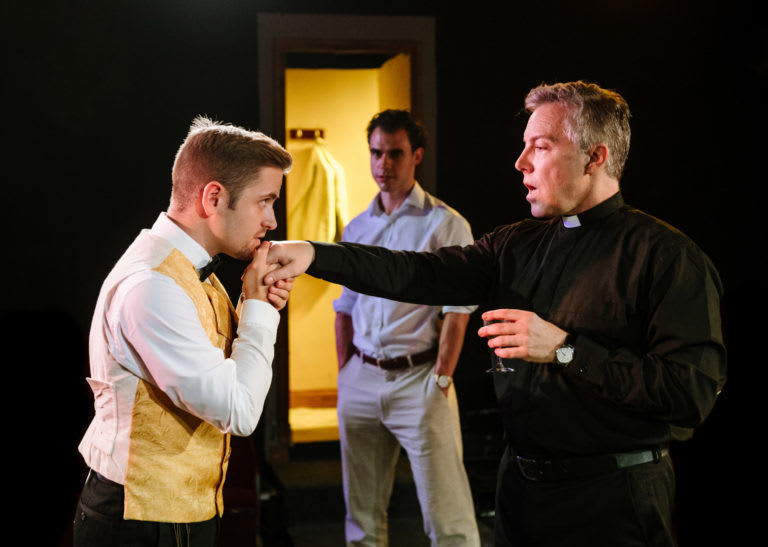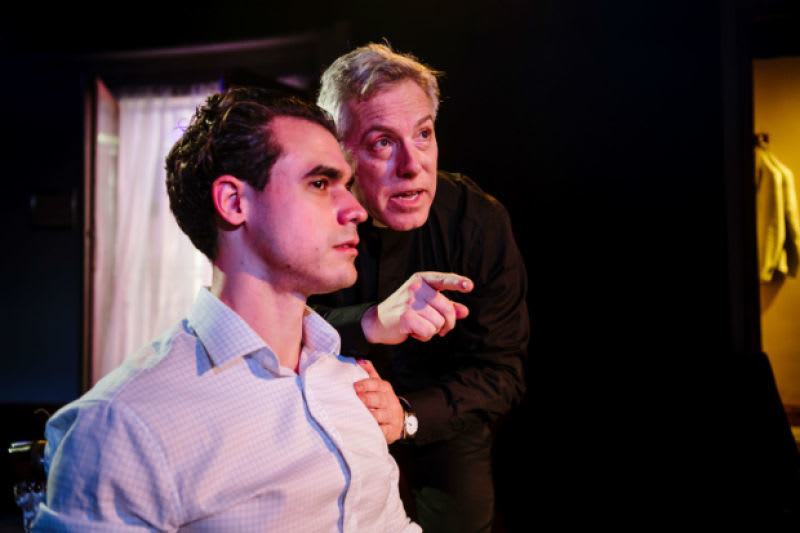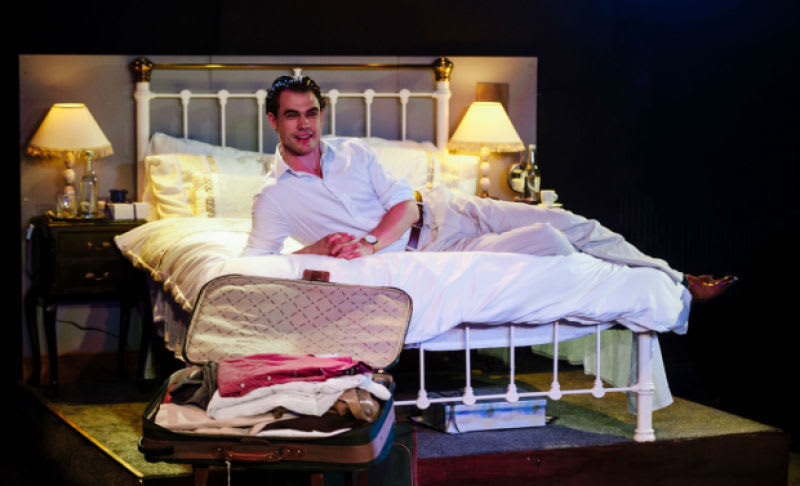 When an American priest, in Rome to give a paper at a Vatican conference, stops another American to ask directions, he finds himself invited to lunch and then back to the stranger's hotel room. His host is Patrick, a successful screenwriter whose latest film has just wrapped, but what's behind this invitation? His reasons remain unclear: is it just that he likes him and welcomes some company?
Mart Crowley's play, first performed in New York in 1993, only now gets it European première headlining the King's Head Theatre's 2018 Queer Season and that context is a clue to what it might be about.
It opens as they enter the opulent hotel room, with its gold embroidered bed linen, its view over Rome from beside the Spanish Steps and the sound of the Angelus bell ringing out from city churches as afternoon turns to evening. It is clear that the priest, who asks to be called Conrad instead of Father, is lapping up this taste of expense-account luxury.
Conversation is surprisingly bland for men who have already spent an afternoon together and we learn rather more about Patrick. He's an ex-alcoholic, once a Catholic altar boy, he's now a non-believer, speaks bitterly about the Hollywood film scene and confides more about past experience. This isn't a lonely man just needing an audience: Patrick is in charge, especially as Conrad gets drunk knocking back Genepy, the green liqueur he introduces him to.
Crowley holds back on having anything actually happen but Patrick's remarks could sometimes be taken as come-ons, especially after spilling some water gives him the excuse to take his shirt off.
Patrick wonders if the conference will cover contraception, women priests, and gay rights but, though there is a brief exchange about celibacy, it is not until later that Conrad reveals that, having once been a teacher (a job that gave him great pleasure), he became a hospital chaplain and found himself giving last rites to those dying of AIDS.
But what is really going on? What are Patrick's motives? Is the priest up for temptation?
There's a back-story. Patrick was once Conrad's pupil; this chance meeting allows him to turn the tables: retribution for what was done to him but it is not as simple as most accusations of paedophilia against clergy but about rejection, about love being made sinful.
Simon Haines as Patrick and Cory Peterson as Conrad do their best to make Crowley's contrivances seem credible but for too long their exchanges offer little of real interest though there is an undercurrent of humour in what at first seems a picture of a pick-up that is still playing pussyfoot.
As a play about child abuse, For Reasons That Remain Unclear holds back for too long—we are now used to more outspoken condemnation—but its specific point is one worth making. Does denial do even worse things?
Reviewer: Howard Loxton