For Services Rendered
W Somerset Maugham
Chichester Festival Theatre
Minerva Theatre, Chichester
–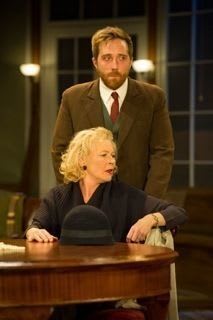 Maugham's polemic on the devastation caused by war, even many years after the event, is a powerful story powerfully presented in Howard Davies's outstanding, perfectly cast, production.
First produced in 1932, 14 years after the Armistice ended hostilities, it was not well received. Audiences were not ready to be reminded of the Great War and the Great Depression which followed.
Now we are well aware of the agonies young men suffered in the trenches while being regarded as 'cannon fodder' by incompetent rulers, but the passions and frustrations released by each and every character in this expertly crafted story point out that the suffering didn't end when they returned to "a land fit for heroes". The play can still shock all these years later, and this production is completely involving every step of the way.
William Dudley's set takes us to the Ardsley house in late summer 1932, a comfortable middle class home in the English countryside where the younger members of family and friends are coming in for tea after their game of tennis.
As Mrs Ardsley (Stella Gonet) brings in the tea tray, it seems that all is right with their world, but the coils of barbed wire seen through the windows are a hint that this is not a gentle domestic comedy (although it has its moments of humour), and as each character reveals the turmoil raging beneath the surface their world gradually disintegrates.
The most obvious casualty of the war, yet the one who sees the situation most clearly, is son Sydney (Joseph Kloska). Blinded by his injuries and spending his days playing chess or bridge, he is looked after by sister Eva who has devoted her life to the task, but from a sense of duty not love.
In Justine Mitchell's towering performance, she progresses from acceptance, resentment, a fierce anger, total despair and finally madness when her advances to Nick Fletcher's Collie are rejected. Collie, a naval war hero, is ill-suited to civilian life and his business career is in ruins. With bankruptcy and disgrace staring him in the face, he takes his own life.
Sister Ethel has married Howard, a tenant farmer with a wandering eye and a drink problem, who treats his wife like dirt—and here "class" is still an issue.
The third sister is Yolanda Kettle as the young and beautiful Lois. Hard-headed and hard-hearted, frustrated by the lack of opportunities open to her, she settles for money and power taking another woman's husband, flashy, wealthy retiree Wilfred Cedar (Anthony Calf) along the way.
In the centre of all the revelations and suffering are the parents, remaining calm as the family disintegrates, she resigned to welcoming a death which will release her from a world she cannot understand, and the final irony is the speech from her pompous husband believing that they have nothing to worry about. "We have our health, we have our happiness, and we can all look forward to better times in the future".
You have to despair of a man who believes the war has affected him badly because his blind son cannot inherit his business.
Reviewer: Sheila Connor