For All Time
Rick Thomas
Theatre by the Lake, Keswick
(2009)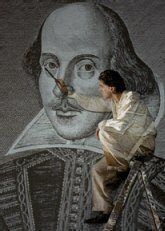 Theatre by the Lake's tenth anniversary season includes one world premiere, written by Rick Thomas and featuring in its cast of characters the great Elizabethan playwrights William Shakespeare and John Fletcher.
Thomas portrays Shakespeare as drunken and raucous and unable to remember the names of his own plays ('The Donkey Play' is A Midsummer Night's Dream, and he remembers Antony and Cleopatra only as 'The Snake Play') and Fletcher as camp and foppish as they meet in a room in a pub run by Shakespeare's mistress Margaret to collaborate on the final draft of Two Noble Kinsmen, which Richard Burbage has requested by the following morning for rehearsals to commence. Shakespeare is reluctant to get down to work on the manuscript, leading Fletcher to make accusations about the authorship of Shakespeare's whole canon, and a revelation from the great man about why he stopped writing alone after completing The Tempest.
The dialogue is deliberately modern and littered with anachronisms, which is fine as an evening of cod-Jacobean casual speech could become quite tiresome. However the conversation is stuffed – perhaps a little overstuffed at times – with contemporary references, including a re-enactment of the mysterious killing of fellow playwright Christopher Marlowe, Fletcher's production of a telescope to look at the stars, the death of Shakespeare's son Hamnet, Fletcher's separation from Francis Beaumont, the burning down of The Globe Theatre and issues such as whether women should be allowed on the stage, all of which dates the play to around 1613, just three years before Shakespeare's death. The play also raises the debate over whether he actually wrote the plays and dismisses it, although as far as I know this is not thought to have been raised during his lifetime.
The production features some tight direction from Stefan Escreet and a simple but very effective design from Oliver Townsend consisting of some basic wooden stools and a table on a wooden platform between two sturdy-looking wooden beams. There are very strong performances all round from Peter Macqueen as Shakespeare, Dennis Herdman as Fletcher and Aimée Thomas as recently-widdowed landlady Margaret.
The script seems to be showing off its research at times, but as a mixture of fact, speculation and pure fiction it adds up to something that is really quite entertaining and engrossing and well worth a look.
Until 7 November 2009
Reviewer: David Chadderton