Force Majeure
From the film by Ruben Östlund, adapted for the stage by Tim Price
Donmar Warehouse
–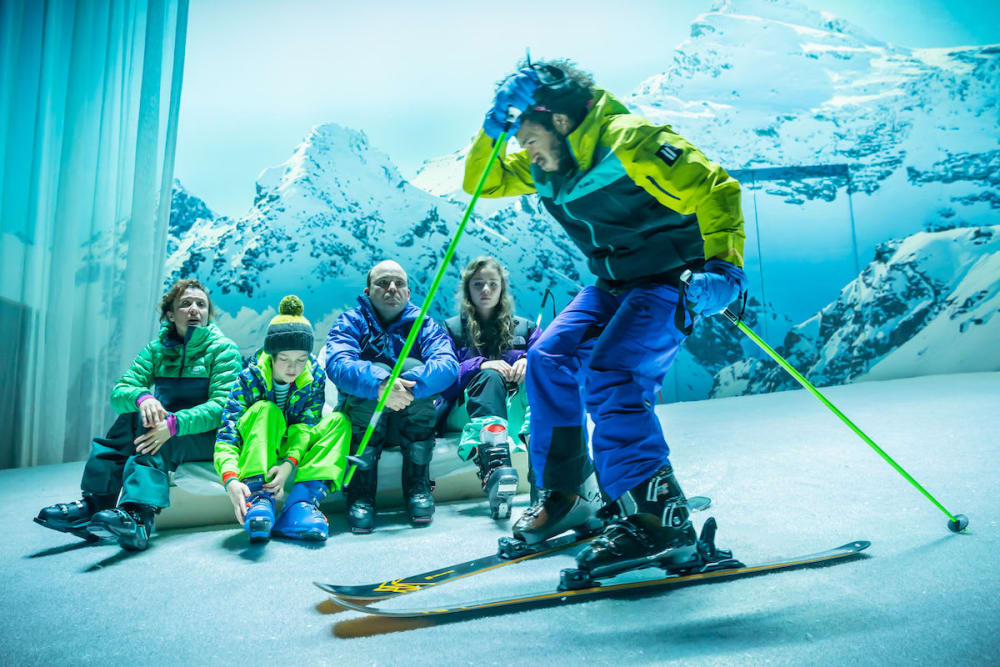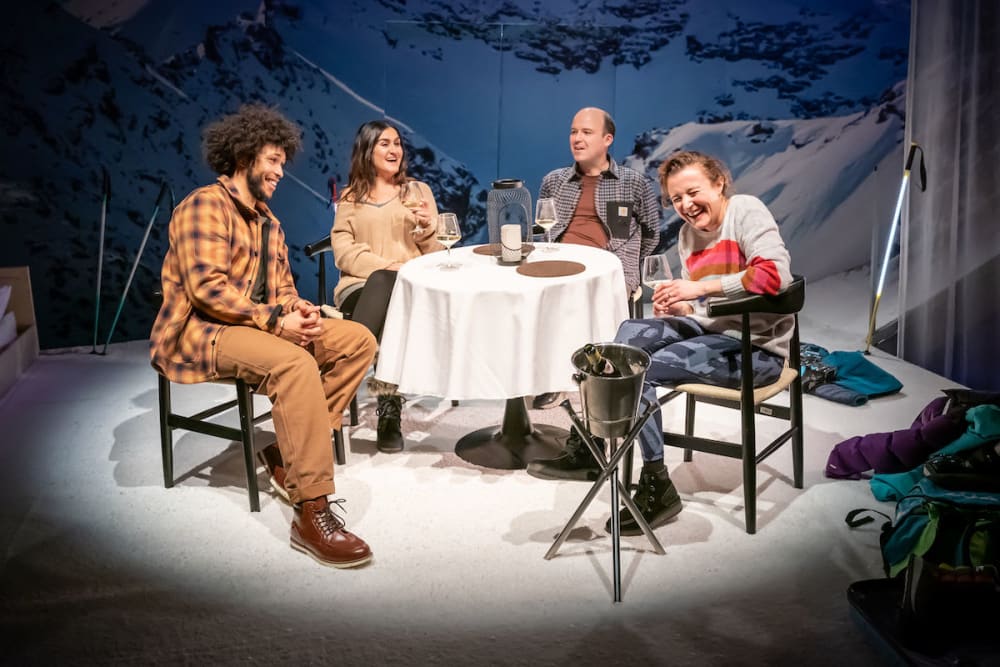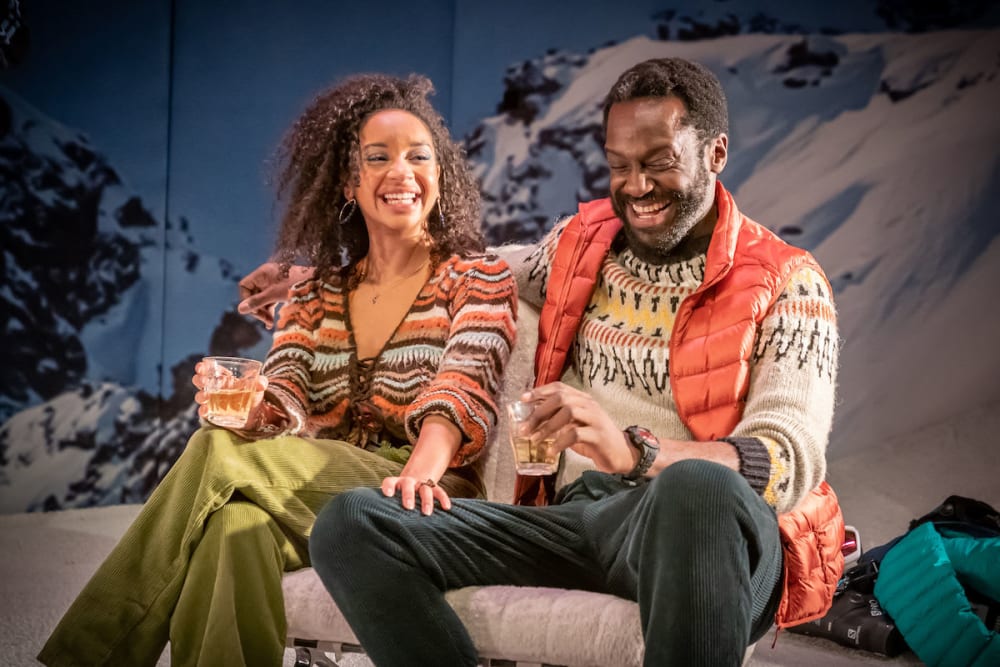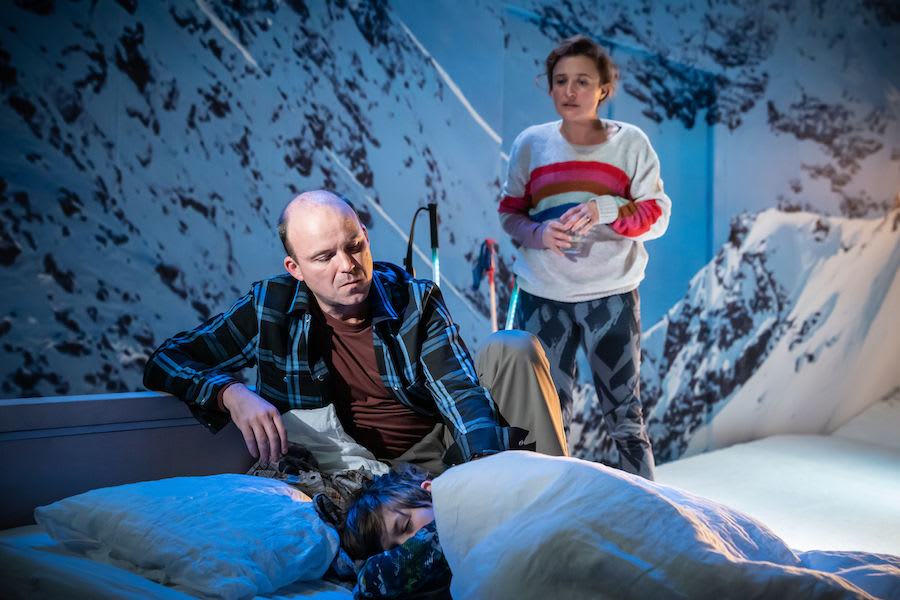 I've not seen the film on which this play is based but, since it is set on the slopes in an Alpine ski resort, presume that it exploits action and spectacular landscape, a subject for cinema not easy transfer to the close-up confines of the Donmar Warehouse.
Director Michael Longhurst and his designer Jon Bausor set out to do that theatrically with a photo of a snowy peak filling the back wall and a snow white, steeply raked slope filling the stage space so that skiers can swish down from its high point to perilously exit through a narrow aisle through the audience. Furniture for the hotel rooms, corridors, bars and terrace at the top of the ski-lift (the locations where most of the action takes place) have to be skied in and set up on the slope which itself limits sight lines for side seats.
What supports slick action in one way slows thing down in another but does add an element of real risk that matches the play's content. Hard-grafting business man Tomas and his wife Ebba have brought their children on holiday for what is supposed to be family time together. Something that is obviously needed for cracks in the parent's relationship are apparent and the children lack any discipline but the trust between them is about to be suddenly tested.
On the family's outing, a series of explosions is identified as the controlled setting off of controlled avalanches to keep the slopes safe. You can't help feeling this is setting up something that will happen in the last act but that key moment comes very soon. in the middle of their lunch, something seems to go wrong: an avalanche is rushing towards them. There is panic. Ebba pushes their children under a table, Tomas does a runner. By the time they realise the avalanche stopped before reaching them, they've simply been surrounded by the snow mist it creates, he seems to have disappeared. In a moment of crisis, he abandoned his family to save his own skin.
Can Ebba forgive this desertion? Perhaps, but not the fact that he won't admit it and the play goes on to explore his struggle to face the truth and a rift that has repercussions for others too.
As their arguments reach screaming pitch, this could be a comedy but it is also disturbing; the nervous laughter from some of the audience suggest there is more than one couple finding their marital feuding familiar.
Rory Kinnear's Tomas is frozen in denial but little tics show the stress he is under and when he does crack up is convincingly multilayered: both letting it all out and an element of self dramatisation. Lyndsey Marshal's Ebbe gets most of our sympathy, though, as she gets sozzled, she may lose some of it and when she seems to find a way to restore their children's confidence in their father, she seem the one who really controls things.
Sule Rimi and Sienna Kelly as Tomas's mate Mats and his much younger girlfriend Jenny echo the wrangling with another example of male excess and Nathalie Armin has a cameo as older cougar Charlotte offering an an alternative picture of a married woman playing away as it were.
Recognisable though the tensions and marital conflict may be, there is little attempt to explore reasons for them and it is difficult to discern the ecological message that the programme suggests is intended. But the staging is certainly impressive with the principal characters miming skiing (without wearing skis) and some rather incongruous dance-like episodes including a sauna celebration of maleness.
Reviewer: Howard Loxton