Foreplay
Mpumelelo Paul Grootboom
South African State Theatre Production
Theatre Royal, Stratford East
(2008)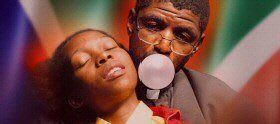 Grootboom acknowledges his play as adapted from La Ronde, Arthur Schnitzler's play which has ten scenes of sexual pairings linked by one partner moving on to the next until eventually the circle is completed. Here some of the characters duplicate those of the original but they are drawn very much from South Africa society: soldier, thief, prostitute, barmaid, spoiled young man, teacher, schoolgirl, politician, preacher and preacher's wife. Here the sex is very explicit and often violent, both in its description and its enactment, though an element of stylization, extending to dance in some instances, makes it a little easier to watch.
Despite its raw depiction of a variety of forms of sexual exploitation it is often very funny in its take on contemporary mores - especially in those episodes involving a Christian preacher and his wife. The pastor, played by Sello Zikalala, presents his moral failure as 'proof of pastoral humanness' and quotes Ephesians 5 verse 31 as his justification - along with the religious naming of the 'missionary position!' His wife gets a delightful performance from Koketso Mojela, taking over this extra role from an unavailable actress in addition to those she was already playing - the seemingly innocent but sexually experienced schoolgirl the preacher sleeps with and the vodka-fuelled barmaid who has sex with the same young township boy as the wife.
Mandla Gaduka gives the township boy an irresponsible charm. He's writing a book, his Confessions, in his head at least - and gives us a taste of its first chapter on Foreplay, though when it comes down to it the joke is on him when he erupts in premature ejaculation.
Directing his own script, Grootboom, uses carefully chosen music tracks and Israel Bereta's choreographed intercourse to front the furniture changes on Vilhelm Disbergen's minimal set of wire fences and street lamps, and move the action directly from one episode to another. In all the sexual episodes he has his characters chewing bubble gum: blowing bubbles comes to have orgasmic significance and could also be seen as emblematic of the passing on of STDs - and indeed the soldier at the beginning of the sequence complains about what's lost in using a condom and reckons even if he got AIDS, a bullet would get him long before it killed him.
It is inevitable, perhaps, that a sexual roundabout includes a prostitute. Leggy Excellentia Mokoena makes her a feisty creature and she is splendid in a final speech in which she points out that is not she who exploits and rapes herself, speaking not just for her profession but for every victim, but before that the violent undercurrent of all these sexual episodes has overtaken things in her encounter with a politician (Boitumelo Shisana) that becomes almost too unpleasant to bear. Here Grootboom does not stylize the act and that increases its visceral horror. Don't go to see this play unless you are prepared to be upset. It is not simply a comedy of sexual manners.
At Stratford East until 13th June 2009. This is the only UK date of an international tour.
Reviewer: Howard Loxton