Forever Plaid
Stuart Ross
Ovation
Upstairs at the Gatehouse
(2008)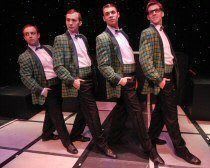 With all the new extravaganza musicals that are taking over the West End it is a refreshing change to see something that is without spectacle, without a cast of fifty and simply goes back to basics but still leaves you feeling that you've just seen something special.
Forever Plaid is exactly that; a musical about four all-American, wholesome, clean cut guys who together are Forever Plaid, a male harmony group who (in their opinion) are destined for success. However tragedy hits and we join them in a sort of juke box limbo where they finally perform the show they dreamed of, back in 1964.
When Forever Plaid originally opened in the West End at the Apollo Theatre in 1993 it closed after just a few months, whereas in America it continues to play all over the country to this very day. Perhaps this is due to Britain's affection for dirty rock 'n' roll over cheesy barbershop quartets, or perhaps it was simply the venue as this show works perfectly in the intimate space at Upstairs at the Gatehouse.
This is not by any means a character driven musical; it is more of a revue of both renowned songs from the fifties and also some unfamiliar ones. Graham Weaver, Anthony Williamson, Joe Allen and Steven Craven were "sweet as apple pie" as Frankie, Smudge, Sparky and Jinx. They performed in perfect harmony together, not only vocally but also the way in which they interacted with one another. Each had their own quirky mannerisms; Joe Allen in particular was adorable as the cheeky and slightly goofy Sparky. However none outshone the other: rather they balanced each other out and there was a genuine rapport between them.
Performing a show like Forever Plaid in today's cynical society it lends itself to a cheap send up. Whilst John's Plews's production was certainly tongue in cheek he resists the temptation to litter it with tawdry gags. Racky Plews's choreography must also be commented on. It is slick and simple and beautifully kitsch.
With a title like Forever Plaid you can imagine that it attracts an audience of a certain age, and they undoubtedly seemed to enjoy being taken on a trip down memory lane. However I am far from drawing my pension, and whilst I've always had an appreciation for a good tune, this musical will appeal to a much wider audience than the purple rinse brigade (as appreciative as they are).
This is an intimate show so whilst I don't think a West End transfer is on the cards (although the show is jetting off to Malaysia for a short run), it certainly gives those Jersey Boys a run for their money.
Until 22nd June
Reviewer: Rachel Sheridan