For Starters
Nick Warburton
Stephen Joseph Theatre, Scarborough
(also at the Evron Centre, Filey and Helmsley Arts Centre)
(2004)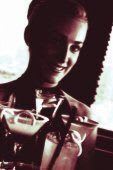 This is a fast-paced, quick-witted two-hander, performed by Laura Doddington as Daisy, the waitress, and Stuart Fox as Mr Roland, the customer. It's Daisy's first day in her first job at the Butter Cross Hotel, and Mr Roland is its most demanding resident. Daisy is young, friendly, bubbly, inquisitive; Mr Roland is middle-aged, grumpy, suspicious, insecure. Over the next 50 minutes we see their relationship develop - Daisy gradually breaks through Mr Roland's frosty exterior and gets him chatting despite himself; she loses her job and gets it back again; Mr Roland sells off his successful company to his PA, and shows signs of becoming just a little bit more human under Daisy's disarming influence.
The play is performed in the SJT restaurant, obviously an ideal setting, full of people finishing their lunch, and waiters and waitresses bustling about. One of the waitresses emerges as if from nowhere, removes a 'Reserved' notice from a table on the platform stage, Mr Roland enters from a side door, and almost imperceptibly the play has begun.
Both actors are well cast and their comic timing is impeccable. I found myself hanging on their every word, and afraid to blink in case I missed a nuance of body language or facial expression. The play deserves to tour widely, and would also work well on radio.
Reviewer: Gill Stoker