Forty Years On
Alan Bennett
Chichester Festival Theatre
Chichester Festival Theatre, Chichester
–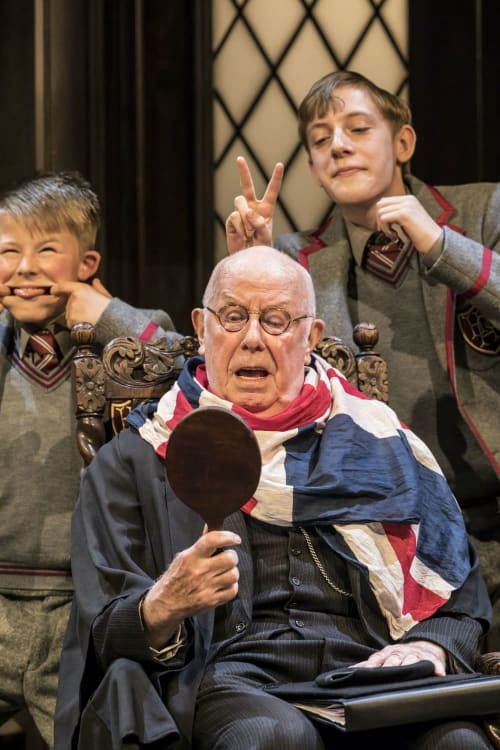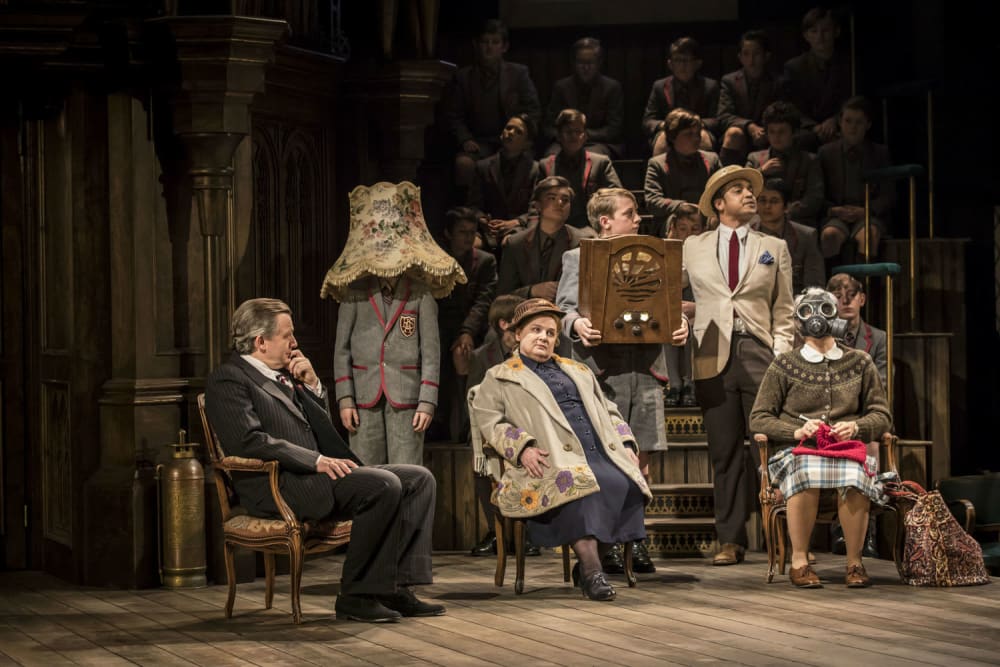 First performed at the London's Apollo theatre in 1968, this was Bennett's first play. With hindsight, he has said it is in a form which he would not contemplate attempting today yet Daniel Evans, brave man that he is, has chosen it as the first production of the Festival Season and, nothing daunted, is directing it himself.
It calls for an enormous cast, made even larger in this production by the inclusion of fifty-two boys from the community. Most are from the Youth Theatre with a few from auditions and all are very talented actors, singers, and/or musicians with one terrific solo tap routine being performed by Michael Lin, possibly for no other reason than to demonstrate his talent but so worth seeing.
Movement director Naomi Said has done a great job choreographing so many boys and coaching them to their present expert professional standard, every one an individual character.
The setting is a rather run-down public school, loosely representing England. The occasion of the headmaster's retirement is the cue for a play to be presented in his honour, the play within a play looking back over events during his tenure and introducing various celebrities from the time, as well as taking in two world wars.
This is a thirty-four-year-old Bennett feeling that the old England he knows is fading away into obscurity. The script is full of nostalgia and random memories of events and people, rather more a revue than a play, with time zones slipping from one to another and often overlapping. Video screens and a very competent lectern reader Joe Idris-Roberts keep us abreast of the period as the show proceeds.
The pivotal role of headmaster goes to Richard Wilson, a perfect choice but, at eighty years old and with a seriously life-threatening heart attack not far behind him, he shows great courage taking on a role with reams of dialogue to conquer and at the moment he seems a little uncertain and forgetful. The notes of his "retirement speech" are to hand but having to refer to them throws out the balance of comedy making the first act rather slow. However given a little time he should soon be back to the acerbic character we all know and love.
Act two, in contrast, treats us to delightful comic parodies of celebrities over the period with mannerisms, lifestyles and attitudes blatantly exaggerated to hilarious effect. Danny Lee Winter's Tempest brings a lot more visual comedy than I imagine the original (Bennett himself) would have done to the wittily comic dialogue and he's a delight to watch as a Lady Bracknell-type character, or a teacher instructing pupil Wigglesworth (Silas Wyatt-Barke) in the role of his "private parts".
Great work too from Alan Cox as teacher Franklin, Jenny Galloway as a Matron who likes a tipple and Lucy Briers as spinsterish Miss Nesbit all having a ball in their unaccustomed roles.
The large, imposing organ centre-stage in Lez Brotherston's oak-rich set is played by one of the boys. There are multiple styles of music throughout from ecclesiastical choirs to wartime popular songs, not to mention the rugger team contribution. Some are exquisitely beautiful, some amusing and one has a rather a rude end with the innocent expressions of the boys a joy to behold.
The play ends on a high of laughter and enjoyment and a great beginning to the Festival season.
Reviewer: Sheila Connor