Foul Pages
Robin Hooper
Hope Theatre
–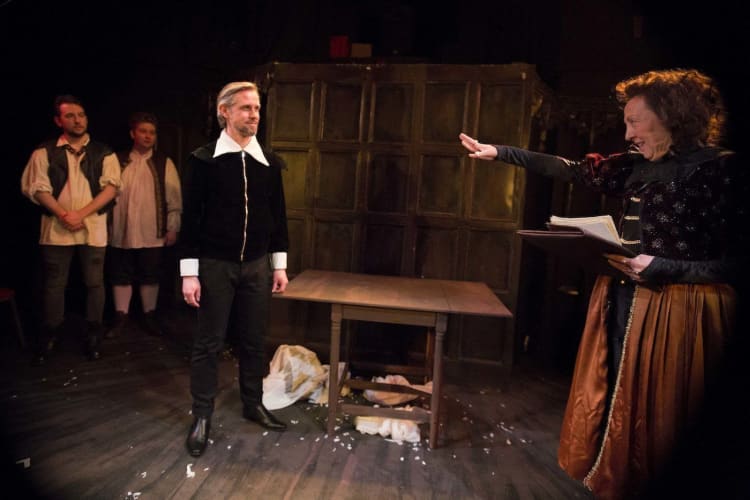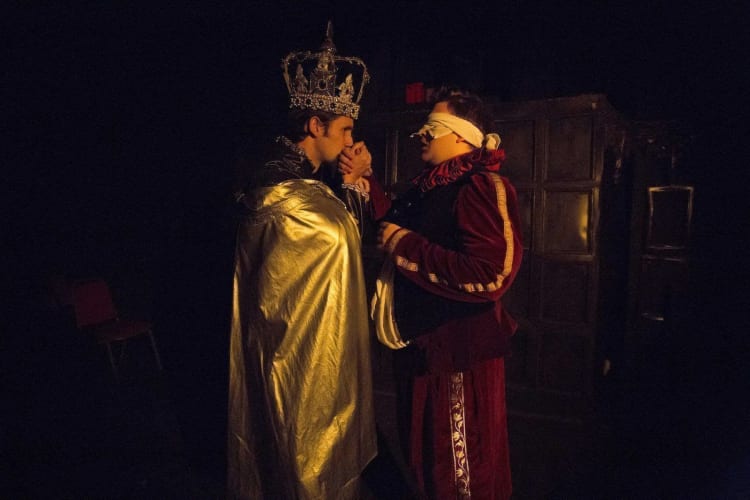 It is 1603 and the newly crowned King James is staying at Wilton House in Wiltshire to escape the plague which rages in London.
Also there are the King's Men, newly renamed since he became their patron, along with their playwright William Shakespeare. With the London theatres closed, they were on tour at Mortlake when Mary Countess of Pembroke summoned them to Wilton to entertain His Majesty. She wants to get the king in a good mood so that she can plead clemency for her friend Walter Raleigh who is on trial for treason in Bristol.
That is the historical background to Robin Hooper's new play, though the letter once produced as detailed evidence disappeared many decades ago. But this isn't history; it is theatre and a situation that Hooper has fun with as Countess Mary, herself a formidable literary patron and poetess, suggests some rewrites to the proposed performance of As You Like It, Shakespeare's brother Edmund is in competition with another for the affection of boy actor Alex who is cast as Rosalind and the King takes a fancy to his chubby junior colleague Rob and insists on a change to the casting.
With its mixture of backstage and royal bedchamber gossip, it should be irresistible but its succession of fast-moving, short scenes and a mixture of mumbling and heavy accents cause confusion. I never did quite get why As You Like It could save Raleigh's life (though it is true that on 9 December his sentence was commuted to imprisonment).
I wish director Matthew Parker had given as much attention to the delivery of a couple of his actors as to the complex choreography of his scene changes with washing cued to track along a line above our heads. But this is a romp and perhaps that is carping for there is a great deal of fun in its scabrous insinuations. Tom Vanson's King James may not keep his hands to himself but, unlike the actors, he doesn't take things further, though you can't help wondering what goes on with the bodyguard (Jack Harding) he has brought down from Scotland.
There are lots of good moments, such as when Shakespeare tears up Countess Mary's rewrites, and there is a nice touch in the way Ian Hallard's sophisticated Will Shakespeare has lost his accent while you can still tell younger brother Ed (Greg Baxter) is a Midlander. Lewis Chandler and Thomas Bird establish a bitchy camaraderie between blonde boy Alex and young Rob until things go awry.
Designer Rachel Ryan has a flair for mixing modern leather and denim with Jacobean features and puts the Countess's dog Chop in nothing more than a ruff and breeches with a long tail. In fact, James King's talking dog nearly steals the show: a sharp commentator, his tongue licking and lolling, wheedling treats out of the Countess, loping around or curling up with Alex to keep the boy warm this is a clever, very canine performance.
The fun doesn't stop when the play ends. There is a final tongue-in-cheek send up of Southbank Shakespeare tradition. Foul Pages doesn't deliver all that it could but it sends you home smiling.
Reviewer: Howard Loxton