I Found My Horn
Jonathan Guy Lewis and Jasper Rees, adapted from the book by Jasper Rees
Tristan Bates Theatre
(2008)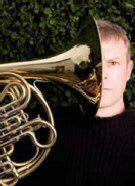 What have you got lying forgotten in the attic? Jasper Rees had sixteen-feet of brass tubing: an old French Horn that he had tried to learn to play and given up on in his youth. A failed marriage, unsatisfactory life and 26-years later he was sitting in his car, having driven his two sons back to their mother's, when he heard a familiar piece of classical music on the radio, a piece with a horn, so he dug it out and went to play it - and decided to master it after all. Having already turned that experience into a successful book, now, with Jonathan Guy Lewis, he has turned it into a play, in which Lewis also plays him.
There is a subtext here about working at anything that requires commitment and dedication - marriage, life - and not giving up, but what we get is 75 minutes that charts that experience of learning to play the horn again.
It begins with a striking opening image, and with panic, and takes us on a considerable journey that is often very funny and also at times very moving. Lewis as Rees, aided admittedly by a little help from Gustav Mahler, had tears welling in my eyes as well as his. This may be a small studio theatre but Lewis is no mumbling miniaturist. This is a full-blooded performance that encompasses a whole range of characters from a school music teacher like a stretched tendon (well, he was called Mr Cartilage) to a group of characters at a Horn Training Camp that Rees attends in Minnesota, who range from an hilarious Capote-like musician to a warm bear of a man, and in particular a world-famous German horn player who has suffered a stroke but is a brilliant dogmatic teacher (and a carefully judged performance). Lewis plays them all and, back in Britain, a rich-voiced, life-affirming north-country officer of the British Horn Society who encourages him to continue and gives him an opportunity to challenge himself with a public performance of Mozart's 3rd Horn Concerto. All great stuff: against them Jasper Rees himself seems very much the ordinary little man -- which makes the presentation of his struggle all the more effective.
Lewis has the audience in his hands, so much so that he can take out several moments to change his clothes in near blackout without losing its concentration - though again he has some snatches of great music to help him.
The contribution of director Harry Burton is nowhere obviously apparent (which I mean as the highest compliment): its effects and transitions, however contrived in fact, seem natural, and the show has been tactfully and meticulously lit by Jeremy Coney, but the success is ultimately due to Lewis's performance.
Continues until 20th December 2008
Reviewer: Howard Loxton