Four Dames in Search of a Panto
James Barry
Play to the Crowd
Theatre Royal Winchester
–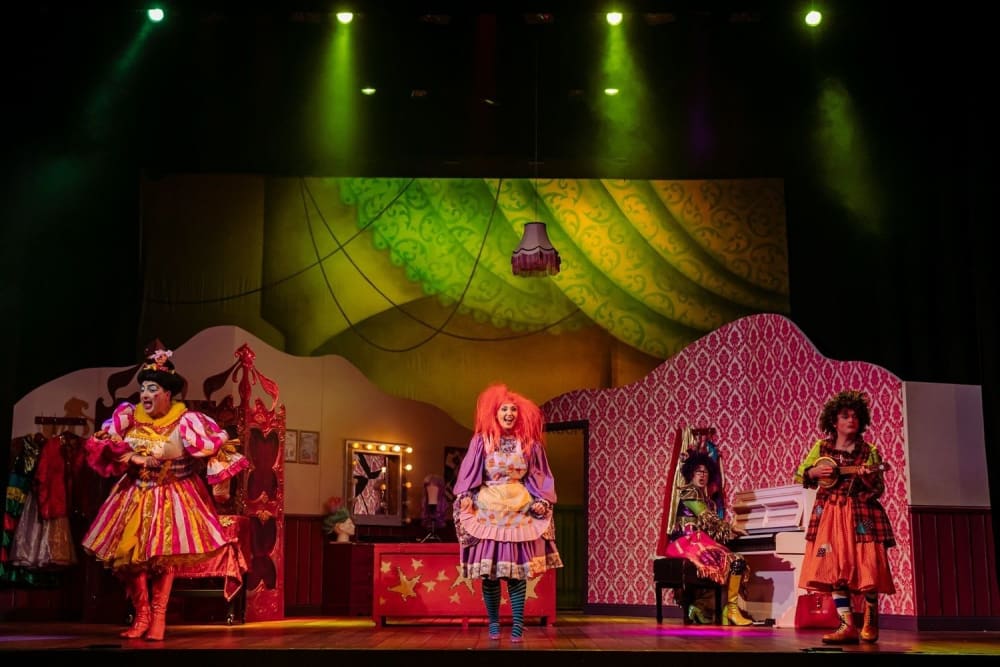 All across the United Kingdom, dressing rooms sit empty, bereft of their usual panto patter. At the Theatre Royal Winchester, however, backstage becomes front as four Dames share the spotlight and strive to keep the spirit of pantomime alive for 2020.
With COVID-19 restrictions impacting what theatres can present, regular Winchester writer and composer duo James Barry and Simon Slater have hit upon the perfect formula for a panto-inspired show that not only celebrates the genre, but teaches its traditions and supplies the staple characters we all love.
Just when Widow Twankey thinks she's all alone backstage, along pops Dame Trott, an Ugly Sister and Dame Dolly Doughnut convinced they too should be the sole occupant of the dressing room. In a clever nod to Pirandello's Four Characters in Search of an Author, these Dames are in search of a panto and set about delivering an evening of entertainment in a year unlike any other.
A show of two halves, albeit without an interval, the production begins with each Dame in turn introducing and enacting their favourite pantomime business. Twankey does the Ghost Gag, Ugly Sister the Magic Hat con-trick, Dame Dolly the shop sequence and Dame Trott the "Twelve Days of Christmas" after moaning that her panto doesn't possess such a scene—perhaps she's forgotten about some funny business milking Daisy the Cow?
Winchester's "Twelve Days of Christmas" offers plenty of fun with "PPE" replacing the customary "bra that was made to hold three", along with fellow new additions "two rubber gloves" and "three plastic aprons". Four Dames doesn't make too much of the current pandemic, but gently nods to it for comedic value without ever feeling too laboured.
In addition to jokes about Barnard Castle and eye tests, Boris Johnson and Donald Trump also make appearances thanks to the show's second half requiring the audience to provide the Dames with new names as they seek to create their very own pantomime and take on stock characters. The Dame's layabout, idle son is christened Boris by a child in the audience, whilst the evil Villain becomes Donald Trump thanks to another. Perhaps only in Winchester are the young children in the audience so politically minded!
The inclusion of a female Dame in the form of Libby Gore enables a transformation from Dolly to Princess as Tom Attwood becomes the Villain, Ed Thorpe the Principal Boy and Julian Eardley remains the Damsel in a Dress, whose job, thanks to this audience, was running Parliament. Part of the show's warmth and charm is the cast's reunion, having all appeared on stage or in the pit at Winchester previously.
Slater's new songs capture the essence of pantomime with Barry's script a quasi-Panto 101. It's a real treat to see many a front-cloth gag take centre-stage and the genre deconstructed by the Dames as they weave a new narrative concluding in a riddle contest showdown and all-important happy-ever-after wedding. Stomping feet, thumbs down and clapping hands replace pantomime's traditional call and response, but, unlike other venues, the Theatre Royal does celebrate a songsheet. Forbidden from vocal interaction, the entire audience joins in with "Heads, Shoulders, Knees and Toes" doing the actions, but, as well-advised by Dame Trott—touching eyes, ears, mouths and noses is avoided at all costs.
As the Dames explain, regardless of story, pantomime is all about the triumph of good over evil, which is exactly what the Theatre Royal has achieved. Despite the many challenges and ever-changing restrictions, Winchester's pantomime is a triumph over all adversity and something the venue and city alike should be most proud of.
Reviewer: Simon Sladen