Four Quartets
T S Eliot
Theatre Royal Bath and Royal & Derngate, Northampton
Festival Theatre, Malvern
–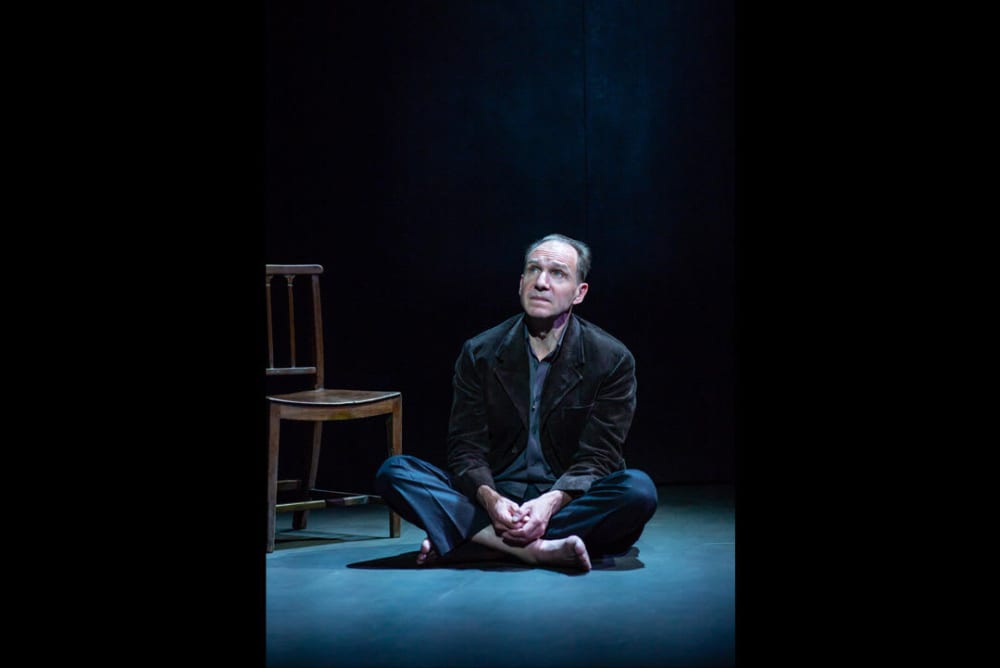 While many theatres have adopted populist programmes to recover revenues lost from the pandemic, no-one could accuse Malvern of pandering to the masses.
One COVID consequence, there has been a curious mathematical regression in the number of actors employed. Might soothsayers find significance in the successive recent casts—six, three, three, two, one in recent productions?
But the same bill has seen an inverse increase in the level of intellectual challenge: Ayckbourn's state-of-the-nation Absurd Person Singular, then a treatise on betrayal in A splinter of ice by Ben Brown, examinations of moral responsibility in Michael Frayn's Copenhagen and Oleanna by David Mamet, and now on life, the universe and everything.
And, on top of T S Eliot, we have the incomparable Ralph Fiennes.
Fiennes has always struck me like a man told to solve the world's problems, and have his written report delivered by Friday morning. On Wednesday.
And yet, behind those worried, hypnotic eyes, there is a brain clicking over to do exactly that.
He gives a phenomenal performance—80 minutes of faultless delivery like a wine waiter who meticulously pours every drop of a rare vintage (1937 to 1943 in this case) and awaits its appreciation.
I didn't necessarily respond to what was in the bottle, which I took to be Eliot's pessimism about the world as he found it, "a future that has no destination", endless futility in which time repeats itself, and a cowardly retreat from belief into faith.
The language nevertheless is glorious. On a hot summer night, I relished the odd droplet or two, such as one that contained the message about "The roses that have the look of flowers that are looked upon."
How privileged one felt, when one might have spent a pleasant evening looking upon the roses at home, that a great actor felt it was worth sharing with me a poet philosopher's contemplations about existence, even if I understood only a small proportion of them.
The set, brilliantly lit by Tim Lutkin in a way that links audience, actor and something beyond, consists of two revolving monoliths designed by Hildegard Bechtler that reminded me of the one at the end of Stanley Kubrick's film 2001 A Space Odyssey. They were equally enigmatic, and just as effective.
Four Quartets transfers for a week to the Theatre Royal, York from Monday 26 July and for a month from Thursday 18 November to the Harold Pinter Theatre, West End, London.
Reviewer: Colin Davison