Foxfinder
Dawn King
Papatango Theatre Company in partnership with the Finborough Theatre
Finborough Theatre
(2011)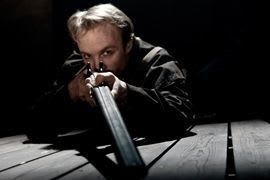 When did you last see a fox? I catch a glimpse quite frequently on my way home from the theatre in a north London street and even seen them crossing my garden, though they must have jumped high walls to get between the surrounding houses. Urban foxes are now a part of London life but in the English countryside of Dawn King's new play there seem to be no foxes though Foxfinder William Bloor has been sent to search for them.
William is nineteen, he is a Foxfinder in the same way as seventeenth century Matthew Hopkins was a Witchfinder but not a self-appointed one. Part monk, part bureaucrat, part KGB he's been brought up since the age of five in a monastic-like institution where he has been rigorously trained for the job. In secret moments of doubt or transgression he chants their credo and flagellates himself. His job is to find foxes, to identify land contaminated by them and to hunt down those who are collaborators with them. The authorities say foxes are the enemy: they, not climate change, are the cause of the drowning of the countryside, bad harvests, sickness, even a child's death. There are subversives who don't believe the government line. Is that because the fox enemy has power to corrupt people and control their minds?
Farmer Samuel Covey and his wife Judith are apprehensive of William's visit. It has been a disastrous year, they may not reach the production quota they have been assigned. If they don't they could be taken off to work in factories where life expectancy is not more than three years.
This is a chilling reminder of what religious or political fundamentalism can do to a society with its indoctrination and belief in signs and portents and echoes of Nazi and Stalinist labour camps.
Judith, sure there are no foxes on their land, just wants the Foxfinder to go away and leave them to cope with their problems. Kirsty Besterman makes her an intelligent, caring woman but if she questions the orthodoxy she's not going to say so. Not to agree marks you as a collaborator with the Beast and her concern is to protect her husband and their life, though Sarah (Becci Gemmell) her friend on the neighbouring farm has connections with the underground movement.
Samuel Covey also starts off equally sure they have no foxes but are the rabbits and the sheep really trying to pass on warnings? Their existence takes away the guilt which has been weighing down his life and, while William sticks to the rule book in his investigation, Samuel becomes active foxhunter. Gyuri Sarossy movingly suggests the man who has been broken by events regaining confidence and vitality albeit through delusion.
Tom Byam Shaw makes indoctrinated William's mixture of charm and rigorous following of procedures entirely believable but with a suggestion of something else hidden behind them, a young man's frustration not even admitted to himself.
This is a quartet of fine performances that shine under Blanche McIntyre's direction played on James Perkin's setting of a rostrum of bare boards traversing the theatre and atmospherically cross lit by Gary Bowman. With a single chair the only furniture though it moves from kitchen to bedroom and out into the countryside, she often keeps actors on stage from one scene too another, not afraid to hold effective long pauses and with George Dennis's growling and sometimes gong-like reverberations adding to the tension.
Foxfinder provides a fascinating and disturbing ninety minutes (without interval). If the ending does become increasingly predictable the way it gets there has its surprises.
Dawn King has written a worthy winner of the 2011 Papatango Playwriting Competion and this premier production plays for the next four weeks alongside the three runners up which will each play for one week in an earlier time slot.
"Foxfinder" runs at the Finborough Theatre until 23rd December 2011
Reviewer: Howard Loxton