Fracked - or please don't use the F-word
Alistair Beaton
Chichester Festival Theatre
Minerva Theatre, Chichester
–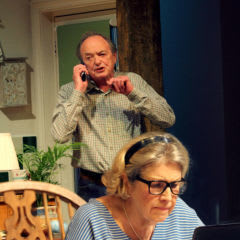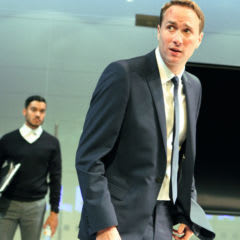 Alistair Beaton's satirical new play is very funny and rather frightening at the same time, explaining with the help of video exactly what the fracking process is and how it will affect us. It is bang up to date, in fact ahead of itself, with the 'news' that Boris has resigned from his post as Foreign Secretary? Is this a prophesy or a hope? One man behind me muttered "Dream on".
The subject is basically fracking and whether it is a reasonable and safe solution to our need for gas and oil, but the play is really about the characters and attitudes of the people involved, most particularly the PR companies who are in the business of trying to persuade dissenters that fracking is in the best interests of their community, and no mention of the huge profits involved. 
There are references to our split from Europe, including, "this is England and we don't do human rights any more", a comment from PR consultant Joe as a young manipulative go-getter who doesn't care whose toes he steps on on his way to the top (a towering performance by Oliver Chris).
He is representing Deerland Energy, and we begin at a meeting intended to persuade the local community that disruption will be minimal and advantages well worthwhile, but this is where they come across Elizabeth, a retired academic determined to have her say and accusing Hal (Michael Simkins), the head of the company, of lying and cheating.
She is soon bundled out by security but several mobile 'phones are in action filming the scene. The revolve does a neat switch to the next morning and the kitchen of her home where she and husband Jack came to spend their retirement years, and, to her surprise, she opens her laptop to find herself on YouTube with the caption "Don't Frack your Granny"—and that's where Joe's problems really begin.
Anne Reid is Elizabeth, reluctant to get involved in any dispute but social media is frighteningly powerful and the letters of support come flooding in. What can she do but, with true British spirit, take up the fight, especially as daughter Jenny (Andrea Hart) insists on helping, prodding her into confrontations and bringing along her much younger hippy boyfriend to the disgust of James Bolam as husband Jack. He just wants a quiet life where he can offer people tea and biscuits and do a bit of gardening.
He points out that the lovely little village has already lost its post office, its bus service, its bank and is about to lose its pub. Is it worth the fight to stop the fracking process, especially as the company is offering substantial compensation? Tempting!
'Casting' has chosen carefully and every character seems credible and real with Chris's Joe playing that part so well that no-one was sorry for him after his encounter with a bull.
Strong, but almost silent, support comes from Joe's assistant Malik (Sam Otto) who listened and watched carefully before his closing speech.
Smartly directed by Richard Wilson, the play is very funny, lighthearted, but with a deep and dark message. Highly recommended—if you can get a ticket.
Reviewer: Sheila Connor