Fracked! or Please don't use the F-word
Alastair Beaton
Jonathan Church Productions
Yvonne Arnaud Theatre
–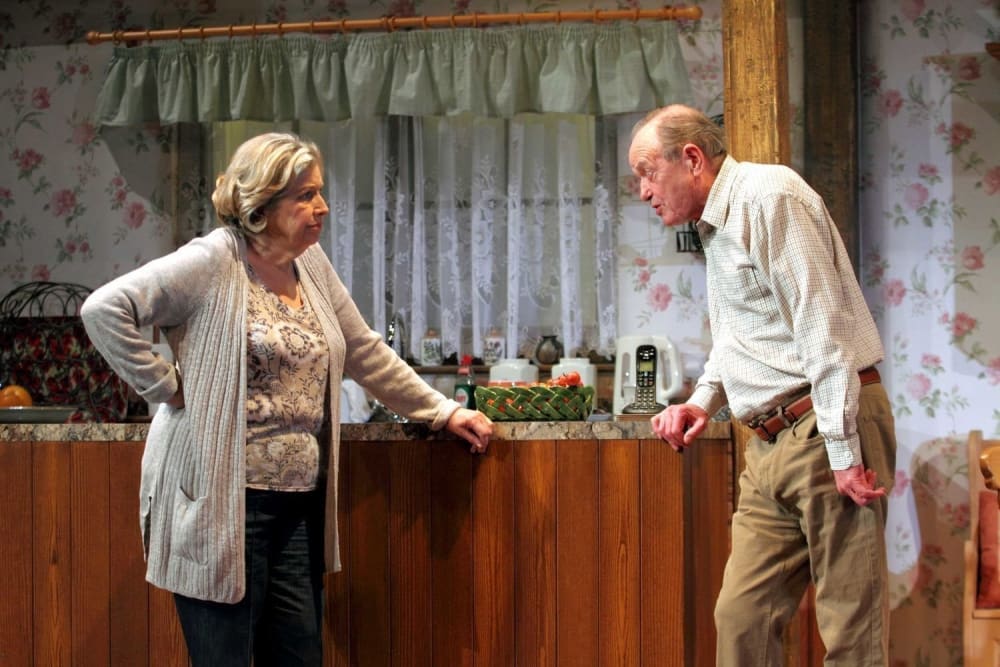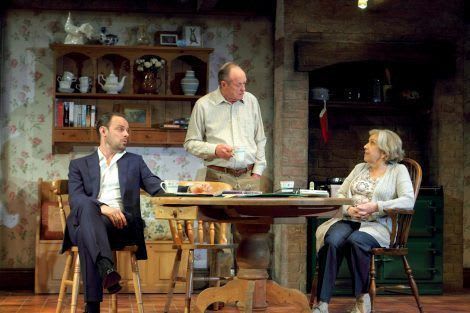 Are you feeling Fracked Off? Are you a NIMBY? Or are you for the new extraction techniques whether in your backyard or elsewhere?
Whatever your opinion, Alistair Beaton's new play is certainly topical, with fracking licenses awarded around the country. This play takes place in an anywhere village found in the peaceful countryside, residents fighting against the lorries set to come roaring through their tranquil backroads and the ugly drills installations needed 'keep the lights on'. Beaton's play makes his views on the matter incredibly clear: he is against this extraction method but he does produce a surprisingly informative piece of satire which certainly had the audience debating in the interval.
Critics of the original run at CFT complained that the play didn't keep up with the evolving government position on fracking. Beaton has obviously read his reviews, and the performance was peppered with reference to news from the last week or so, provoking much mirth.
Elizabeth (Annie Reid) is a reluctant protester who is dragged into the limelight after berating a bribed professor at the town meeting. Her barrage is filmed and she becomes an overnight YouTube sensation. The revolving set (designer James Cotterill) contrasts the sleek, city offices of the PR firm with Elizabeth's homely Aga-filled kitchen.
The anti-fracking campaign takes over Elizabeth's life and leaves long-suffering husband Jack (James Bolam) begging for a return to normality with Scrabble and shepherd's pie. The other characters are more stereotypical hippy protestors, prone to unusually coloured dye jobs and wafty clothing.
Excellent performances given by James Bolam and Annie Reid, but the real star of the show is Harry Hadden-Paton as a slick-talking, no-morals PR consultant. Willing to do anything to get the job done, Hadden-Paton's inflammatory comments are worryingly believable and his speedy patter is excellently timed. The other surprise stand-out performance is Steven Roberts, an ensemble member whose deadpan delivery as the restaurant waiter steals the scene.
The play is nicely informative without feeling too hectoring and the gags are well-paced, even if a little predictable. Beaton leaves the issue unresolved, reflecting the status all around the country. Unfortunately, the show loses momentum at the end and this lack of closure comes in the form of a long moralising speech conveniently interrupted by policemen dragging away Elizabeth. The scene doesn't really fit with what has come before and is an untidy end to the proceedings.
This is a star-studded cast who perform admirably in an enjoyable piece of new writing. Though extremely biased in presentation of the facts, it certainly succeeds in provoking discussion on a difficult environmental issue of our time.
Reviewer: Louise Lewis