Francesca da Rimini
Ricardo Zandonai, libretto by Tito Ricardi, a shortened version of the play by Gabriele d'Annunzio
Met Opera on Demand
Metropolitan Opera House, New York
From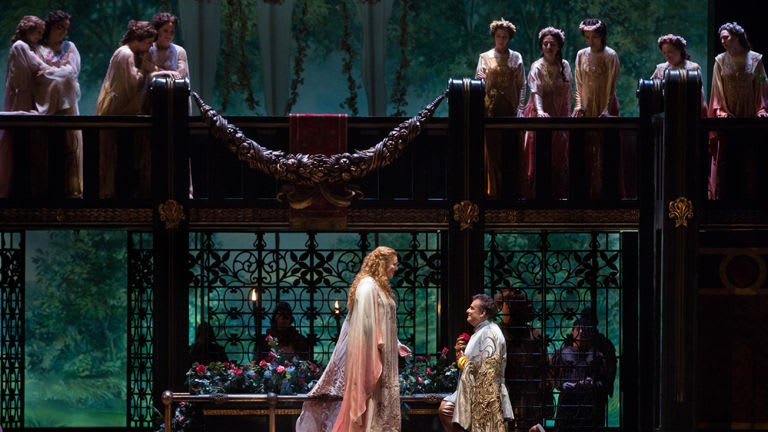 Ricardo Zandonai's Francesca da Rimini is based on fact. It happened in Italy in the 13th century.
Francesca, the daughter of the Count of Rimini, was given in marriage to Gianciotto in return for his military services. Francesca falls in love with Paolo, his younger brother, and when their affair is discovered they are both put to death in 1289.
Dante, in the fifth canto of his Inferno, talks of his conversation with Francesca and she told him that her affair with Paolo began when they read the story of Launcelot and Guinevere together. Dante's story was extremely popular in the 19th century and inspired numerous paintings, operas and plays. Leigh Hunt wrote a poem, Tchaikovsky wrote a symphonic fantasia and Rodin sculpted his marble statue The Kiss.
Gabriele D'Annunzio wrote his play for his mistress, Eleanora Duse, the great Italian actress. It premièred in Turin in 1901. In 1902, there was a verse play by Stephen Philipps in London. In 1937 in Russia, there was a ballet for Ballets Russes and since then there have been a number of Italian films.
This revival of Zandonai's opera at the Metropolitan New York, directed by Piero Caggioni and conducted by Marco Armilato, dates from 2013 and stars Eva-Maria Westbroek as Francesca, Marcello Giordani as Paolo, Mark Delavan as Gianciotto and Robert Brubaker as Malatestino.
Gabriele d'Annunzio's play has been heavily cut. Caggioni's production, designed by Ezio Frigerio and costumed by Franca Squarciapino, draws on the Pre-Raphaelites and there are many references to Rosetti and particularly Byrne-Jones.
"It's love that makes me sing," says Francesca and, with her hair halfway down her back, Eva-Maria Westbroek looks as if she has stepped out of a painting by Rossetti.
Gianciotto knows that if Francesca saw his ugly face and lame body, she would never marry him, so he sends his handsome brother to arrange the wedding. Francesca, ecstatic about his looks, thinks (big mistake) that Paolo is Gianciotto. They do not speak, they do not sing, they just mime their love for each other. It is a totally unexpected silent duet, a beautiful tableau for the act 1 curtain.
Marcello Giordani doesn't actually get to sing until act 2 when Francesca is married to Gianciotto, and hating it. Paolo and she just know they are going to have to commit adultery.
Gianciotto gets a big brash musical build-up for his entrance. He has lost an eye (there's a battle going on and the castle is under siege). Gianciotto, who likes nothing better than torturing people, gets very angry indeed when Francesca won't let him grope her. Mark Delavan, burly, menacing and wielding an axe, is a perfect medieval villain.
Act 3 opens with a chorus of garlanded handmaidens. In their pretty pastel costumes, they look as if they had stepped off Byrne-Jones staircase. Chattering and giggling, they sing about the joys of spring just when you want to get on with the story. Who cares whether it's spring or not? And then, they start dancing, just because they are in an opera and 19th century opera audiences liked a bit of dancing in their operas. The handmaidens are trippingly twee and verging on the comic.
Meanwhile, Francesca, sitting impatiently on a chaise-longue, can't wait for Paolo to arrive, because this is their big moment. Zandonai, intensely (understatement) romantic, milks it. Westbroek and Giordani's milk it, too. Paolo forces Francesca to read the story of Launcelot and Guinevere and do what they did; and, with the music welling, they do it. Yes, they KISS—what better curtain for act 2?
Malatesta, Gianciotto's brother—Robert Brubaker looking as medieval evil as Marcello Giordani—also loves Francesca and it is he, frightened Gianciotto will kill him, who spills the beans that Francesca is having an affair.
Zandonai whips it up and goes right over the top and down the other side when the brothers arrive to catch the lovers in flagrante delicto. Westbroek and Giordani are singing at the top of their voices ("kiss me on my eyes, lips, mouth, neck, throat, etc, etc") when are killed in an abrupt climax.
There are a number of ways of tapping into this opera and others at will. The Met Opera On Demand service offers annual ($149.99) and monthly ($14.99) subscriptions as well as a one-off payment ($4.99) for those who have limited time or only want to watch the occasional opera.
Reviewer: Robert Tanitch