Frankenstein
Liam Scarlett
Royal Ballet
Royal Opera House
–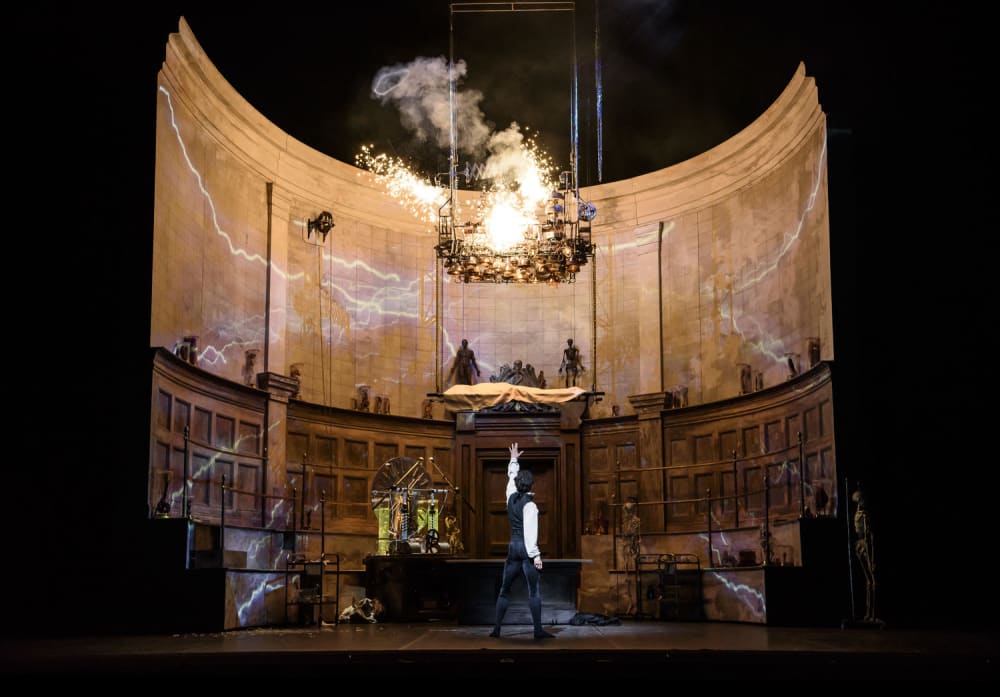 In Liam Scarlett's latest revival of Frankenstein for the Royal Ballet following it's première in 2016, the ballet draws on the emotion in Mary Shelly's deeply imaginative and troubled novel rather than the gothic gore of Victor Frankenstein's creation. This is a ballet about feelings, not horror, according to the programme.
Ballet as an art form is gasping for new repertoire and Mary Shelly's Frankenstein offers fertile fodder for exciting physicality. Yet, while this relatively new ballet boasts high production values and entertainment, it brings neither terror or tears to the table.
It's all brilliantly executed, marrying bustling domestic scenes with a dose of gothic gloom. Victor Frankenstein (Federico Bonelli) and his fiancée Elizabeth (Laura Morera) open the ballet in a glorious pas de deux, breezy as a fresh spring day, limpid swishing skirts and willowy embraces.
Morera moves mercurially from blossoming young girl to desperately clingy partner, as if from the start she knows their relationship is doomed. You can hardly blame her as there's an awful lot packed into the first scene, from playfully flirtatious cameos to the death of Victor's mother during childbirth.
Scarlett's choreography remains firmly planted within classical ballet tradition, but with an expressively heightened flow, from the scene where the creature mimics the steps of his maker to the fated pas-de-deux between monster and Elizabeth, a doomed dance of death that renders her merely a hindrance, standing between creature and Victor. There's also refreshing lightness of touch in the cameo of young brother William, playful and free of angst in a shiny performance from Ptolemy Gidney.
There are multiple admirable qualities in this production, even if at times it veers off into vaudeville territory. In the anatomy theatre scene, a white sheet is pulled back from the dead body and Victor infuses the corpse with new life. As the young doctor fires off the electricity producing contraption, it genuinely resembles an object from a Victorian house of curiosities. The creature moves, the machinery shudders and jolts with a million electric shocks that bang and ripple into the auditorium with the force of fireworks.
John McFarlane's Turner-inspired painted backdrops from smouldering fiery reds to monotone stormy greys add atmosphere and a circus thrill factor, while the score is completely sympathetic to the choreography as movement expressions literally reverberate off the notes. There's something of the new world in Lowell Lieberman's music, a broad sweeping score that could be the soundtrack to a Hollywood classic rather than a ballet, but it feeds into the dancers' movement expressions with elasticity and breadth.
Theatrically is fully mapped out by the dancers' extraordinary technical abilities in this complicated ballet with an extremely long cast list. Yet even for the Royal Ballet, sometimes this task is mightily hard.
Victor's creature, for example, danced by Wei Wang, puts in his best monster-like impression, but his movements are so beautifully fluid, it's hard to believe that this here is a killer on the loose, a semi-formed being.
From the slaughter table in the anatomy theatre when the creature feels the first flicker of life, moving fingers and wrists, this monster mash-up of body parts appears sorrowful in his flesh body suit with red slashes, not remotely scary.
The balletic incarnation of this creature also comes across as slightly fey, not frightening. When he emerges from the undergrowth and mimics the dance mime for, "will you dance?" it projects a comical air given that he's soon to kill off half the cast.
It's not until the final act, when the beast moves into full-blown murder with bodies strewn all over, that Scarlett abandons his busy plot and full cast of dancers onstage, allowing the monster his moment in the limelight. Ironically, it turns out that all the creature really wants is to seek out the love and approval of his creator, like any child seeking parental validation.
The only thing is that, by now, I am struggling to equate a homeless monster thing seeking warmth, shelter and love to a violent slayer who savages anything that comes between him and his creator. How did he make this leap and how do we stay on board? When and where did this transformation take place?
There are lots of other characters who flit in and out of action, but the only truly rounded performance of the night is Elizabeth, who dances as if her very life depends on it. Morera literally ages like a beautiful, wilting flower before our very eyes and, as she meets her untimely death in the final scene of carnage, I feel my first pang of sadness for all that's been and all that might come if this ballet is sharpened to make it the dangerous tool it should be.
Reviewer: Rachel Nouchi