Frankenstein
Howard Coggins and Stu McLoughlin
Salisbury Playhouse and Living Spit
Salisbury Playhouse
–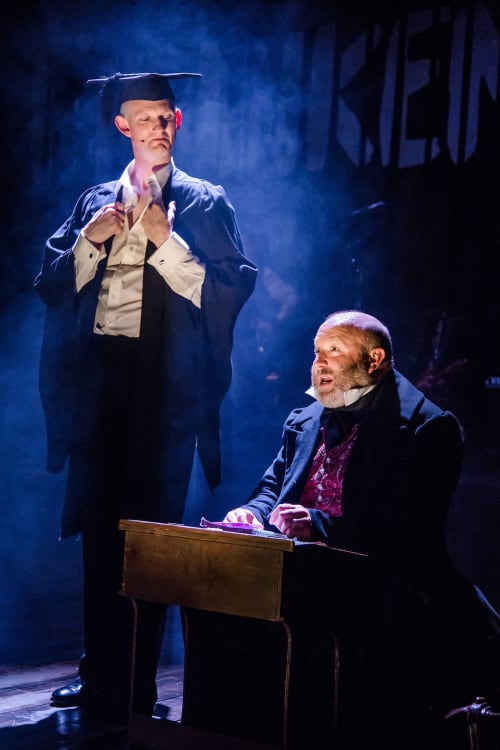 It's the ultimate horror story, isn't it? The one that everybody knows or thinks they know, in which a mad scientist decides to construct his very own human being from dead body parts.
Written by Mary Shelley, daughter of the feminist Mary Wollstonecraft and wife of Percy Bysshe, in 1816, it epitomises the gothic novel, popular at the time and referred to rather scathingly by Jane Austen, no less, in Northanger Abbey.
We have a preliminary introduction from the two principal actors, Howard Coggins and Stu McLoughlin, full of surprisingly cheerful innuendos and much interaction with the audience (well it is nearly panto season, I suppose), then the tolling of an ominous bell and the the appearance of the coffin, shabby and bearing traces of soil.
It's Victor's (Howard Coggins) birthday and the anniversary of his mother's death. These are flashbacks to happier times—and flashbacks within flashbacks—and then to the arrival of Victor's adoptive sister Sylvia (Stu McLoughlin), Victor and Sylvia's romance and marriage and the birth of William, their son.
There are delightfully risible puns throughout the first half, particularly when it comes to the point of applying the electric current necessary for providing the vital spark of life, and we begin to wonder how they can possibly be reconciled with what must be the inevitable tragic ending, mustn't it?
And how, I hear you say, can they manage to tell the whole complex story with just two actors, however skilled?
They have some help, of course. A lot of help in fact. There's a four-piece band (Rebekah Hughes, Tom Knott, Lauryn Redding and Mike Slader) playing, variously, throughout the performance, accordion, guitars (two sizes), keyboard, banjo, drums and even, when the action requires it, a washboard.
But these aren't just musicians. They are also scene shifters, singers and puppeteers. You get the feeling they could turn their hands to almost anything. At one point, one of them has to join the two members of the official cast and actually act out an important part, that of the creature's bride. And, in the best panto tradition, the audience is given the job of choosing which one. Now that's real spectator participation for you.
OK. So they're still short of an actor. They haven't got a young William. Why not use a puppet? After all, they've used one for the creature's much loved hamster. So they do. Charming and lovable, with his blond locks and open smile, he captures all our hearts. He may be only a doll but we feel infinitely protective towards him.
It may seem a strange idea to turn such a macabre tale into a comedy, but, on the whole, it really is great fun. And the enjoyment loses nothing through being contrasted with scenes of heartbreaking poignancy.
It's also, ultimately, extremely thought-provoking, but you may need to have access to tissues when the creature, now named Martyn, is told that he's just a 'six foot lab rat.' His loneliness can be felt across the whole auditorium.
It was good to see so many young people there. But there's an age restriction on the audience, I'm afraid. You've got to be over 14 to see it. I think it's to do with that bit of full frontal.
A pity. Perhaps they'll make a film of it.
Let's hope so.
Reviewer: Anne Hill