Frankie Foxstone aka The Profit: Walking Tour
Amy Gwilliam
The Vault, Leake Street
–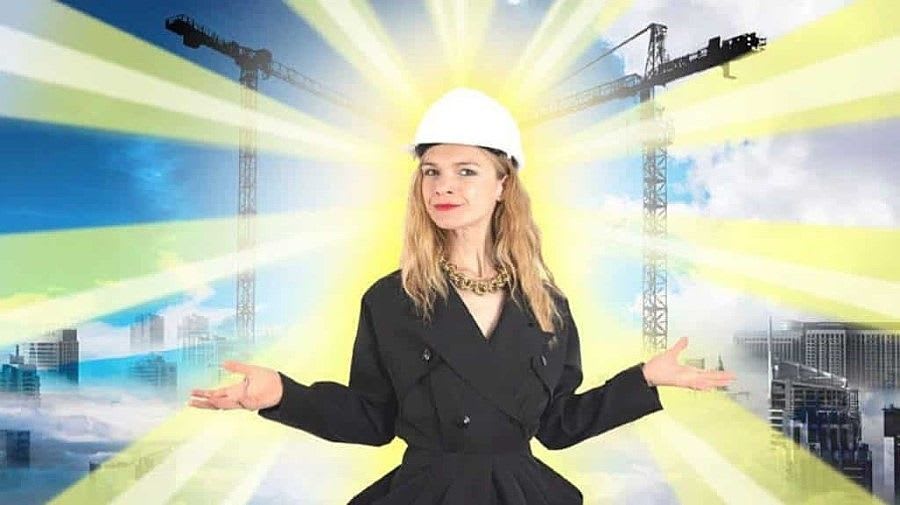 The London skyline is cluttered with towers built in recent decades, with foreign investment from dubious sources, sometimes even a little dusty from the former social housing so recently bulldozed.
And the profit opportunities are still there. That's what Frankie Foxstone (Amy Gwilliam) tells us on a fifty-minute walking tour round the Leake Street tunnels beneath Waterloo Station, in this satiric take on the glib promotional patter of property developers, the women and men who are remaking Britain.
"London has a GDP of 520 billion" she says. "Close your eyes and imagine all you could see and hear around you gone and the money that will make..."
She leads us from one potential development site to another, an audience member carrying a stool upon which at each stop she will stand to deliver her team-building speeches. The Chinese apparently call her "the tiger" and she admits she might just roar.
Her useful contacts include Rufus the Chief Executive of the local council, whom she has introduced to celebrities and the rich on a working trip to a yachting resort.
As she points to a block of social housing, she gushes about the agreement with the local council that will make it a development site and an 18% return on capital, though, in accordance with a 1990 Housing Act obligation to include some social return, they will also build a car park. The existing tenants will be shipped out of the city.
Frankie encourages us to get into the entrepreneurial spirit by adopting the physical pose of a property we imagine ourselves to be and then revolving in elegant circles to the amazement of local people.
Eventually, Frankie's excitement at financial gain, will prompt her to throw off her suit and dance ecstatically through the tunnel, with many of us following waving garish pom poms.
It's all good fun, but fun with a purpose.
Reviewer: Keith Mckenna