Frankie and Johnny in the Claire de Lune
Terrence McNally
Octagon Theatre, Bolton
(2004)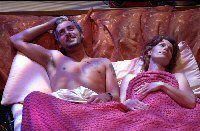 Frankie and Johnny are the waitress and short order cook at a diner in New York who end up in bed together at Frankie's apartment for the first time. The play begins with the climax of their sexual encounter and then deals with the aftermath. Writer Terrence McNally asks what might happen if, instead of swapping 'phone numbers and parting shyly, he stays and declares his intention to turn this one night of passion into a lifelong commitment. After getting over the hurdle of revealing themselves to one another physically, Frankie and Johnny go through the more difficult and painful process of revealing themselves emotionally as well in just one night.
Frankie, in a very sympathetic portrayal by Caroline Harding, alternates between being flattered, intimidated and irritated by Johnny's intense declarations of his devotion to her. Chris Gascoyne's Johnny is not quite as complete a character; his accent is Brooklyn via Salford and many of his gestures appear to have come directly from Al Pacino's performance in the film of the play and seem a little awkward.
The production is entertaining and often funny or moving. However the moments of tension are not strong enough to keep us guessing or to make us care about the outcome, which makes the play seem a little too long. Frankie often tells Johnny that he makes her uncomfortable as he is too intense, but he actually comes over as quite laid-back, the intensity of his feelings only coming over fully in the words. Their disagreements never really have enough fire behind them to threaten to destroy the fledgling relationship.
The rich tones of Matthew Rixon, seen recently at the Octagon in Twelfth Night and Four Nights in Knaresborough are perfect for the voice of the radio announcer. Hannah Clark has done an excellent job with the set design for her first-ever main stage production, creating Frankie's untidy, downmarket New York apartment in great detail.
This is an enjoyable, if flawed, production of McNally's most famous and successful play. Some of the problem areas may well improve as the actors settle into their parts. Playing a two-hander of this length is quite a task - and the fact that the two actors in this intense relationship drama are real-life husband and wife no doubt has its drawbacks as well as its advantages.
"Frankie and Johnny in the Clair de Lune" runs until 20th November
Reviewer: David Chadderton