Freedom Hi 自由閪

Papergang Theatre
The Vaults (Pit) Leake Street
–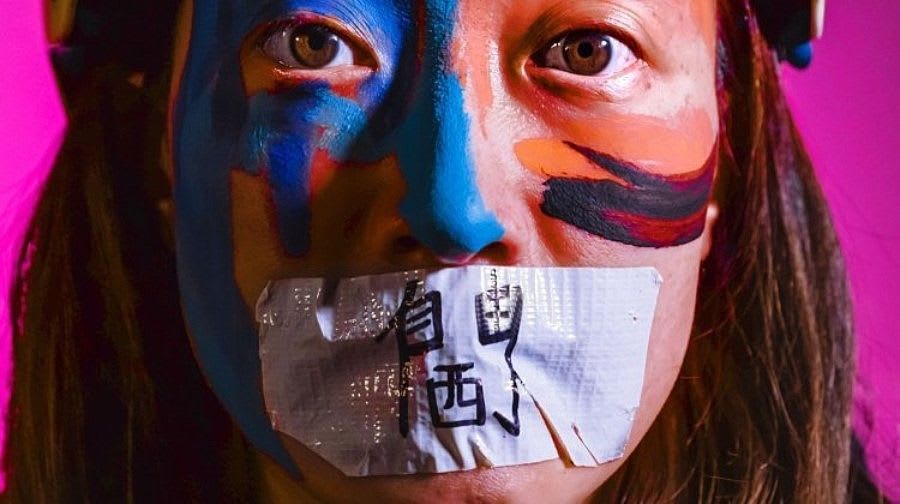 There is a surreal quality to Papergang Theatre's Freedom Hi 自由閪, a compilation of responses to the extraordinary struggle for democratic rights in Hong Kong.
On the stage, to the side of the main performance space, a woman in a pink wig speaks into the mike of Radio Freedom Hi. In the background can be heard the musical strains of some American film noire. Suddenly, there is an audio clip of Carrie Lam, the Chief Executive of Hong Kong. The radio announcer is dismissive of her words, telling her via the radio that "you can dishonour us but don't insult our pussy as you have one too."
In the centre of the performance area, the bodies of several dancers begin to extend their arms and contort, as if in some great wind.
Along the walls are projected the streams of Telegram messages, a mixture of coded protests and the assorted range of reactions of thousands out demonstrating.
In a short piece called Mirage, a woman reads out the peculiar deaths of many of the young falling from buildings or drowning, each in turn being defined by another voice, the voice of the authorities, as "not suspicious".
Occasionally, there appears a familiar date (Tiananmen 1989), or a particular struggle (Hong Kong winter 2020), or a song ("London Bridge is falling down"), all of which refer to some part of the conflict.
That song isn't the only reminder of the former colonial power that never got round to allowing the colony any kind of democracy. We also hear of that popular police practice of kettling first being developed here.
Most of the show is in English, but occasionally someone will speak in Chinese or use some Hong Kong slang that puzzles many of us.
There is rage, sadness and a sense of ragged chaos to what we see. You may not entirely follow what is happening, but there is no doubting its imaginative intensity.
Reviewer: Keith Mckenna