Free-Fall
Christopher Deans
7:84 Theatre Company
Traverse Theatre, Edinburgh
(2006)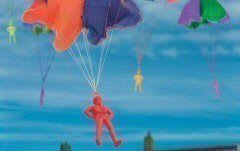 In 1979 the government introduced legislation which allowed the tenants of Council houses and flats the opportunity to buy them at a vastly reduced rate. This "Right to Buy" led to some problems; as in some cases the rises in mortgage rates left ex-tenants unable to pay and led to eviction from their newly owned homes. Free-Fall, the latest work by Scottish playwright Christopher Deans, uses this as a backdrop for the conflicts affecting one family facing this situation.
The play takes place in the home of a middle-aged couple; who, after failing to meet payments, have fallen into the pitfalls of the scheme. John (Dave Anderson) is a failed Saxophonist, recovering from a recent attack in his home. Despite this, he seems unperturbed and glibly continues to tend to his garden while holding sly conversations with a local delinquent Danny, much to the ire of his long-suffering wife, Cathy, played by Hope Ross.
Over the course of the last two days before the repossession of their house, they come to grips with their sense of loss and the ever-present sense of nostalgia. Thrown into this mix are their only son and one of their 3 daughters, each of whom arrives with their own agenda and old grievances to bear.
The cast members are solid, each playing up the idiosyncrasies of their role with aplomb, particularly Paul Corrigan's Danny; who steers capably along the edge of stereotype without ever allowing his mannerisms to become farcical, and the ever-reliable Anderson whose subtle underplaying stands like a rock of calm amongst the turmoil.
The light and sound designs are also well played, the lighting altering in tone and style to signify changes within the story both geographical and emotional, with the music continually crossing the line of diegesis, giving a deeper resonance to the introspection.
Free-Fall is an interesting play, however it suffers from a lack of a real resolution. The action is left largely unresolved with the characters making no real journeys or transitions. The events unfold much as is expected and the surprises and unexpected turns are simply not enough to validate the action that precedes them. The story is interesting enough to entertain but there is a definite need for moment of catharsis that never arrives. As such it is a worthy but ultimately flawed piece.
The tour is now finished
Reviewer: Graeme Strachan