The French Lieutenant's Woman
John Fowles, adapted for the stage by Mark Healy
Yvonne Arnaud Theatre, Guildford, and touring
(2006)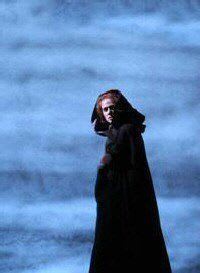 Written in 1969, and inspired by an 1823 French novel Ourika, the book won the WH Smith Literary Award of 1970 and was regarded as the most important literary event of the period. .
Adapted as a film in 1981, with screenplay by Harold Pinter and starring Meryl Streep and Jeremy Irons, it was a huge hit in with its double love story, the same two characters portraying their roles in Victorian England and in the present day. This British Premier stage production I believe sticks more closely to the book - a bewildered writer (George Irving) finding his characters spinning around in his head until he begins to sort them out and some of the stronger ones even take over the story, this being the case with the lead character who appeals to the author for direction, but as the play progresses begins to take charge of her own fate and feelings in spite of her creator.
In Libby Watson's ingeniously intricate multi-level set the actors play out their parts, constantly aided by the writer putting relevant objects into their hands and words into their mouths, to the amusement of the audience. Sometimes he even tosses a coin to decide which way the plot should continue, and sometimes puts himself into the action to determine the viewpoint from the inside, at one point taking over the role of Dr. Grogan and trying out different accents until he settles on the one he thinks most correct for the part.
The characters are, on the whole, one dimensional – not necessarily a fault with an exploration of the Victorian attitudes to love, sex and marriage taken from a modern viewpoint – each one emphasising a particular attribute and pointing out the class and location differences which were even more relevant at the time. We have Mrs. Poultney – played from a wheelchair and with rather over-emphasis by an Anne Kavanagh who looks too young and agreeable for the part however much she tries to be a dried up old misery spitting out self-righteous venom. Hannah Young's Ernestina is spoilt and flirtatious, and her suitor Charles (Anthony Howell) is a woodenly upright and correct English gentleman – until confronted with his inner uncontrollable passion. The only two down-to-earth characters are, as you would expect, the maid (Maimie McCoy) and manservant Sam (Sam Talbot) both well portrayed.
The action takes place partly in London, but mostly in Lyme Regis where it was filmed, and the iconic image of a hooded and cloaked Meryl Streep, alone on the Cobb and gazing out to sea with the waves crashing around her, is amazingly well created on stage with the aid of some very dramatic sound effects and lighting (Matt McKenzie and Chris Davey respectively) aided by atmospheric music composed by Paul Englishby.
The strongest character is, as it should be, Sarah Woodruff, the woman herself, played with intensity by Kate Odey. She is the one the author finds hardest to control. "I had hoped to show you her most intimate thoughts" he says, but finds that she cannot utter them, and with a cry of "Endings are so difficult" he gives us alternatives.
At two and a half hours (not including interval) the narrative could do with a little pruning, but overall it is an ingenious depiction of a brilliant novel, the thirteen strong cast doing justice to the plot, and director Kate Saxon, who is also Associate Director of Shared Experience Theatre, bringing some of their innovative style to the production.
Touring to Glasgow, Windsor, Brighton, Milton Keynes, Cambridge, Cheltenham, Richmond – London, Poole and Bromley.
This review was first published in Theatreworld Internet Magazine
Reviewer: Sheila Connor