French Without Tears
Terence Rattigan
English Touring Theatre
Yvonne Arnaud Theatre, Guildford, and touring
(2007)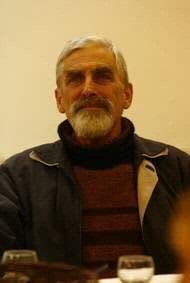 With this company you expect a quality production and this is no exception, despite the fact that Hugh Skinner was suddenly taken ill and had to be rushed to hospital. His place was taken by Ben Lambert at very short notice, resulting in his having to sometimes consult a script which he carried constantly. Well, it could have been his French homework, and he managed this with the minimum of detraction from his performance and with no loss of the characterisation. Strangely the same phenomenon occurred just a few weeks ago – keeping the hospital busy.
Rattigan's play was written in 1936 when he was twenty five, young, radical, and struggling to assert his independence from what appears to be a rather overbearing father who expected his son to go into the diplomatic service and not concern himself with this theatrical writing business.
Set in a villa in a small seaside town on the west coast of France, young aspiring diplomats are improving their French language – with varying degrees of success – but their main preoccupation is with girls, and particularly Diana who collects beaux as others girls might collect shoes, although in her own words she is "not clever, not nice and can't talk intelligently" so her only recourse is to make men fall in love with her, and this Jenna Harrison achieves magnificently with her sweet, innocent, baby-doll flirtatious mannerisms, followed by petulance when things don't go according to plan.
Our hero here is the Hon. Alan Howard, a mirror-image of the author himself as an aspiring writer unsure whether to comply with his father's wishes or to devote himself to writing as a career. Performed with total conviction, superb stage presence, complete command of the character's attitude and emotions, I assumed this to be a seasoned and experienced actor. Not so! This is Ben Mansfield making his professional debut – I expect him to go far!
Billed as a frothy hedonistic play, it is certainly that, but underneath there are undercurrents concerning the morality of war, slight suggestions of homosexuality, and observations of young men of the period looking not for love, but to fall in love. There is a difference! Of course it is dated – cigarettes are smoked constantly (will it ever be performed in Scotland?), mannerisms are of the period, and even the French language has changed since then, but all that is of no consequence in a fun-filled observation of the youth of the thirties.
Although I have mentioned three "leads", this is really an ensemble piece with every character having almost equal weight and each very different: Ben Carpenter's young, gauche Kenneth trying so hard to get his French correct (not helped by Alan who supplies incorrect phrases for him); teacher Monsieur Maringo dressed in a kilt for the Carnival and attempting a Very Careful Highland Fling, and his daughter Jacqueline, a splendid Hannah Yelland who doesn't lose her French accent for a moment. Adam James is the uptight and correct Lt. Commander Rogers who eventually unbends amusingly, Rupert Young is Brian, the only one concerned with sex (rather that love), and another making a professional debut is Leonor Lemee as a very efficient maid.
Meticulously directed (Paul Miller) - impressive sets and costumes (Simon Daw).
Rattigan's frothy plays went out of fashion after the 'reality' of the kitchen sink dramas of John Osborne and the 'angry young men', but give me the froth any day. I've had my fill of the kitchen sink.
Touring to Malvern, Cambridge, Richmond and Brighton.
Reviewer: Sheila Connor