Fresh Apples (Small Bites)
A preview rather than a review
From the novel by Rachel Trezise, adapted by Julie Barclay and Richard Tunley
Tactile Bosch, Cardiff
(2011)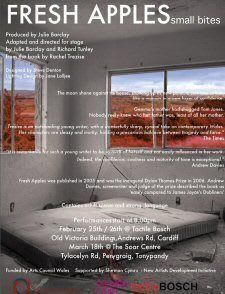 Rachel Trezise's award winning collection of short stories, Fresh Apples, is a caustic and defiant look at life-behind-closed-doors in the Rhondda Valley in South Wales. It won the young writer (she's still only 22) the Dylan Thomas Prize in 2006 and it also attracted the attention of actor-directors, Julie Barclay and Richard Tunley, two of South Wales' most talented theatre professionals.
Compelled by the uncompromising characters and the poetry of the text to bring the piece to the stage, Barclay secured a small amount of funding from Arts Council Wales, National Theatre Wales and the Sherman Cymru New Artists Development Initiative to develop the adaptation for stage.
This weekend, the piece has been staged as a work in development in the quirky and atmospheric garret space above the Tactile Bosch gallery, a deliciously decrepit Victorian laundry in Cardiff's Llandaff North.
The cast of six, Richard Tunley, Gareth Milton, Gareth Bale, Zoe Davies, Catrin Mai Huw and Shelley Rees, have collaborated in developing Barclay's text throughout the rehearsal period. The actors performed script in hand, and are a staggeringly talented cast, particularly given how early in its development this piece is: Richard Tunley commented afterwards that even as late as 3pm on opening night, new threads to the story were being introduced and existing threads altered.
And yet, as unfinished as it is, this is already a more affecting, visceral piece of new theatre than I have seen in a while.
Barclay and Tunley have taken two or three of the stories from Trezise's collection and woven around them a few new ones of their own. The result is a pacey, hard-hitting tableau of adultery, sexual obsession and adolescent sex.
Barclay and Tunley write with great clarity; this economy of text beautifully underpins what is a complex series of disparate plot lines. Undoubtedly, this is uncomfortable subject matter: underage sex between a young boy and a fourteen year old girl with Cerebral Palsy; an abusive marriage in which the wife consents to participate in pornographic home-movies with the neighbours; a pregnant woman haunted by the ghost of a child victim of her paedophile step-father. For all that, there's great comedy here too; brilliantly observed comedy which gets to the heart of the stifling boredom which so often underpins daily-life in small communities.
"There's no point knowing what fucking day it is - they're all the fucking same"
In these days of slashed arts budgets, this project is a beacon of hope, already an engrossing and well-crafted piece of theatre and one which richly deserves the funding it needs to bring it to fruition.
"Fresh Apples (Small Bites)" will also be previewed in a free performance at the Soar Centre, Penycraig, March 18th 2011
Reviewer: Allison Vale