Friend or Foe
Michael Morpurgo, adapted by Daniel Buckroyd
Scamp Theatre & Watford Palace Theatre
Watford Palace Theatre and touring
(2011)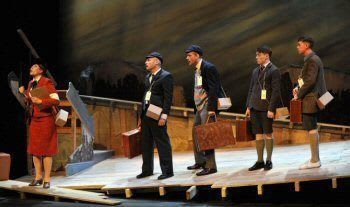 Friend or Foe is the story of two London boys, David and "Tucky", and their evacuation of to the wilds of the West Country in the dark days of the Second World War. It is told by the boys themselves, looking back, but as lads not as grown men remembering, so there is a direct contact with a young audience.
It helps that Paul Sandys (as David) and Mathew Hamper (as Tucker) are young enough, in short trousers at least, to pass as schoolboys (though not quite as juvenile as they say they are). This establishes a precedent so that when other older actors, who would not get away with it so easily, appear as kids they can be accepted without difficulty.
After a little introductory bickering about how to go about it the boys "go back to the beginning", to when they first discovered they were to be evacuated. We follow their name-tagged progress from David's parting with his mother, watched by Tucky, as they carry suitcase and gasmask on the Tube to Paddington and on the long rail journey westward under the supervision of Janet Greaves's wonderfully authoritative but humane headmistress. There they are crowded into a smoked filled non-corridor compartment, Miss chain-smoking Senior Service while Tucky vomits up the jam sandwiches he bolted down (a great hit that with the young audience).
Left unchosen when the billeting officer in Devon, after he has found places for all the other boys, a farmer who turns up at the last minute agrees to take them. Mr Reynolds had been delayed by a mare having a difficult foaling and he was expecting one girl not two boys but he had his wife son take the boys to their hearts and the lads find country life a new adventure.
Michael Palmer's Mr Reynolds is wary and reluctant but compassionate. From the moment the boys hear his dog and an abandoned lamb in the back of the truck they are bumping along in you know things are going to be alright. It is a lovely performance, with just the right edge of country commonsense. Janet Greaves as his wife is full of warmth.
This billeting is a happy one (many weren't) but as we see the boys' reaction to country life, discover a little about what they were missing, what they were discovering and how local kids react, this could be straight documentary. Good though it is, where is the story? That comes now with the crashing of a German bomber on the moor, which only the boys have witnessed. This is when David and Tucky must face the question posed by the play's title, struggle with questions of loyalty and debts of honour and recognize the common humanity which form the crux of Morpurgo's book and this adaptation.
Buckroyd has carefully structured his adaptation so that Palmer and Porter can also play other schoolboys, a bus driver, a billeting officer, a British army officer and two German airmen. They do so splendidly, making one unaware of the doubling. All these characters, however brief their appearances, are fully realised with Palmer's pilot and Porter's crewman implying whole layers of meaning..
Keith Baker's set suggests a wintry bomb site but its raked levels steps, chairs and table can become anywhere from station platform to tube train, bus, parish hall, farmhouse kitchen or attic bedroom, even a river and rocky crags up on the moors for an imaginatively choreographed sequence when David is saved from drowning.
I shared the performance with an enthusiastic house packed with Watford schools: whoops of delight and anticipation greeted the lights going down. With its opening directly addressed to the audience it engages them from the start, leading them to embrace imaginatively the theatrical conventions of this fast moving production which held them throughout.
A word about the programme, which is packed with first hand information from actual evacuees and information about wartime conditions, contemporary photographs, MoI and MoF posters, and wartime advertisements, even detailing rations, earnings and prices. Congratulations to the compilers, though they deserved a more efficient proof-reader!
"Friend or Foe " tours to Norwich Playhouse 3rd-5th October; Hertford Theatre 6th-7th October; South Shields, Customs House 10th October; Newbury Corn Exchange 13th-14th October; Arts Depot, Finchley, 14th-16th October; Yvonne Arnaud, Guildford, 17th-19th October; Buxton Opera House 21st-22nd October; Connaught Theatre, Worthing, 24th October; Haymarket, Basingstoke, 25th-26th October; Borough Theatre, Abergavenny, 28th October; Stourbridge Theatre, Dudley, 31st October; Theatre Royal, Winchester, 1st-2nd November; Southill Park, Bracknell, 4th November; Theatre Royal, Portsmouth, 5th November; Harpenden Public Halls 7th November; Civic Theatre, Doncaster, 8th November; Blackpool Grand 11th November; Key Theatre, Peterborough, 14th November; Mercury Theatre, Colchester, 16th November; Weston Auditorium, Hatfield, 18th November; Northcott Theatre, Exeter, 22nd-26th November 2011
Robin Strapp reviewed this production at Newbury. It was also reviewed by Sheila Connor in Guildford.
Reviewer: Howard Loxton