Friendsical
Book and lyrics by Miranda Larson, music by Barrie Bignold
Brooke Mauchline Productions Ltd in association with Assembly Festival
Theatre Royal Bath
–

Listing details and ticket info...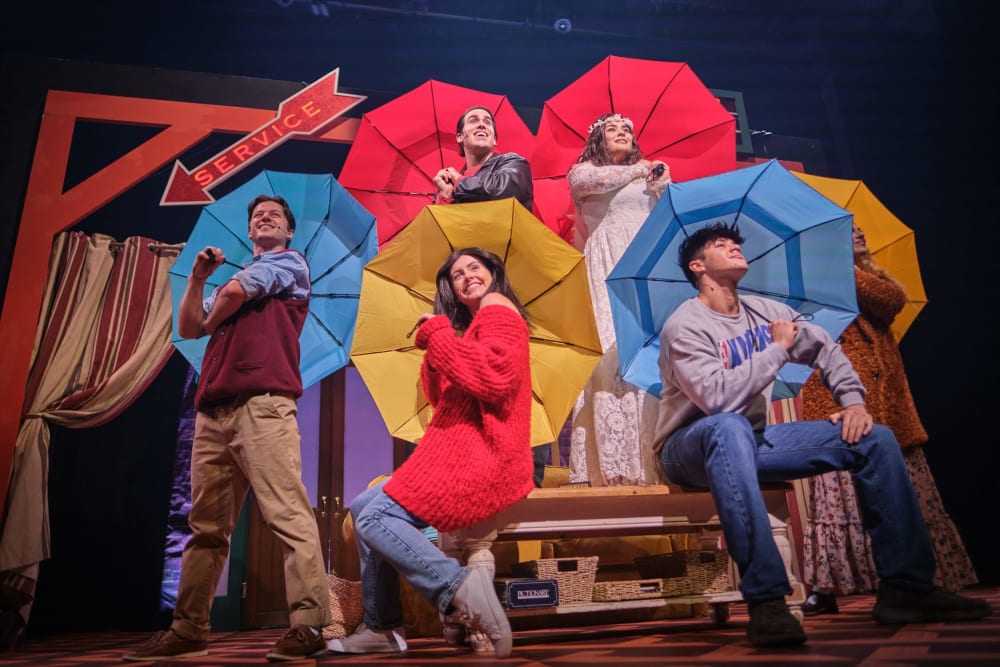 As recently as last year, Friends was still the most-watched show on UK television screens. Even across the pond, the heartland of the sitcom, saw streaming service Netflix pay $100m to keep the show on its books for just one year. This is all despite the show ending almost two decades ago.
Writer-director Miranda Larson's parodical take on the hit American series on six friends in Manhattan navigating life through their late 20s and early 30s was a "pinch yourself" moment for the children's theatre and TV writer. Soft on parody, it settles for plenty of homage throughout.
In recent years, the show has attracted criticism, with even its co-creator Marta Kauffman expressing regret at some elements portrayed in the show. But then again, it would be difficult to name a worldwide smash-hit show which hasn't had its fair share of retrospective, under-the-microscope disapproval.
The premise aims to consolidate all ten seasons into a comfortable two hours and change run time. Its rapid-fire references and over-the-top retelling of storylines will do plenty for Friends fanatics. While it does dangle close to the outrageous, its self-awareness keeps Friendsical's proverbial head above water. It is not so much breaking the fourth wall as the wall was never built in the first place. There's little to no audience participation, but they're invited into Central Perk and Monica's apartment to board a whistle-stop tour of 236 episodes whittled down to an evening.
Each of the sextet does their best to embody every iconic mannerism, from Chandler's dry and awkward sarcasm to Monica's hyperactive tendencies, with some better than others in delivery and uncanniness. While the standard of songwriting borders on a generic primary school production at times, it somehow fits nicely into the '90s vibes which Larson and composer Barrie Bingold set on creating.
The cast—Joey (Sario Solomon), Monica (Sarah Michelle-Kelly), Ross (Nelson Bettencourt), Chandler (Tim Edwards), Phoebe (Ally Retberg) and Amelia Kinu Muus (Rachel)—are joined by a 'celebrity guest' each night, who on this occasion is Kimberley Wyatt of Pussycat Dolls fame. Wyatt, who is joined by Wanted singer Jay McGuiness for the run at Theatre Royal Bath, is a surprisingly great addition and doesn't hold back on the novelty of proceedings.
The total, outright silliness makes this more than a palatable parody—a genre of musical which can divide opinion. Playing to its strengths in mimicking as much of the original carnage and plugging numerous iconic one-liners, it makes for an enjoyable watch.
Since premièring at the 2019 Edinburgh Fringe Festival, the show has been fleshed out into a fully fledged musical and is clearly charged with a single objective: to create fun. Without taking itself too seriously, and as there is unlikely to be an authentic musical adaptation of Friends coming anytime soon, this parodic version produces enough laughs to keep the diehards happy.
Reviewer: Jacob Newbury