From Page to Stage with Peter Arnott & Cathy Forde

Edinburgh International Book Festival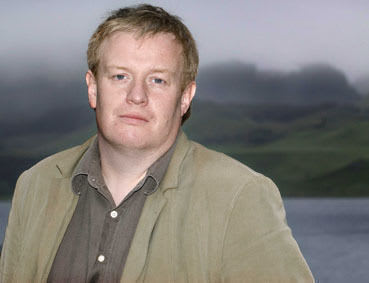 One of the instructional events, as opposed to ones promoting a particular book or author, at this year's Book Festival was about adapting novels into play scripts featuring writers Peter Arnott and Cathy Forde, chaired by actor Rosalind Sydney.
Forde was originally a novelist and is now also a playwright, having written young people's novels such as The Finding and Exit Oz. Her first play Empty was produced by National Theatre of Scotland, and she has also adapted for the stage her own novels Fat Boy Swim and The Drowning Pond, the latter into a musical.
Arnott has been writing plays since 1985, with works including White Rose at the Traverse Theatre in Edinburgh and The Boxer Benny Lynch at Glasgow Arts Centre. From 2008, he was writer-in-residence for the John Murray Archive at National Library of Scotland and later was writer-in-residence at the Traverse. His play Why Do You Stand There in the Rain? performed by Pepperdine University won a Fringe First in 2012. He has written adaptations for stage of Dr Jekyll and Mr Hyde, King Lear, Neil Gunn's The Silver Darlings and Robin Jenkins's The Conegatherers.
Arnott said that he does have a sense of responsibility to the author, but it makes it easier if he or she is dead. He referred to the stage as a "Darwinian space", a cruel space in which to stick a novel. The novel's space is in the mind, whereas theatre space is on the stage. He has translated other people's work to this space, but his question to Forde was, "how do you do that to your own work?".
Forde responded that she has to go back to the original source of her inspiration and make sure that the characters are realised in the script. The Drowning Pond (novel) starts at the end, but she didn't think she could do that on stage. Another issue is that the novel is 300+ pages, whereas the script is 58 pages with songs.
Arnott said that when he was asked to adapt The Conegatherers he hadn't read the novel, so had to try to forget that he was going to adapt it when he read it for the first time. He said it was important to keep faith with the characters, but he had to think about adapting the novel and forget completely that he was adapting, both at the same time. He went through it underlining bits and then threw it away and wrote a play.
Forde agreed about throwing the original away when writing the script. She said that her novels were becoming more and more dialogue-driven anyway, and so she found them quite easy to adapt.
Arnott said of The Conegatherers that it was a thin book and so almost everything in the book was in the play. However The Silver Darlings is 600+ pages. He used the advice of William Goldman in his Adventures in the Screen Trade to find the spine of the story, but this meant that he had to cut out his favourite chapter. For Jekyll and Hyde, he said that you don't know, in the novel, that the two are actually one person until the end. He tried to transfer this to stage by using two actors, and he refused to include a transformation scene.
Forde was asked by Youth Music Theatre whether any of her books would work as a musical for the Aberdeen International Youth Festival. She said that music runs through all of her books, but she adapted The Drowning Pond including writing a version of the lyrics to nine songs with musician M J McCarthy. One major change is that in the novel there is something hidden until the end which would be obvious from the start if portrayed on stage.
Music for Arnott's adaptation of The Conegatherers was by John Kielty. It was performed in a big theatre and so had to have an interval for the theatre to sell ice cream, and the hardest part was to get the end of act one right. The simple design by Hayden Griffin used a set of ropes hanging down with projections onto it.
Arnott said that the central character of any play is the one that changes. In his adaptation, the boy was played by a woman to get around the difficulties of casting children—plus he said that "theatrical children tend to be cute" and that isn't the point. He had to change the ending of the story for the play as a novel can peter out but a play must have an ending.
Forde said that characters had always driven her novels and so it didn't seem a great leap to start writing plays, but everything moves faster when writing drama and you start working with other people much sooner than the more solo occupation of novelist. However Arnott announced that he has started writing a novel as he is "fed up of talking to people"; writing a novel is "just me in a room". He went straight from university into writing plays and is now 50 so wants to try something new.
Another difference of opinion between the writers was when Arnott said "there's nothing worse than an actor with an opinion", especially when their questions come from a knowledge of the book and not the play, but Forde said she likes actors chipping in with ideas during rehearsals.
Reviewer: David Chadderton