From Rushmere With Love
Artistic Director Ivan Cutting & Company
Eastern Angles
Sir John Mills Theatre, Ipswich
–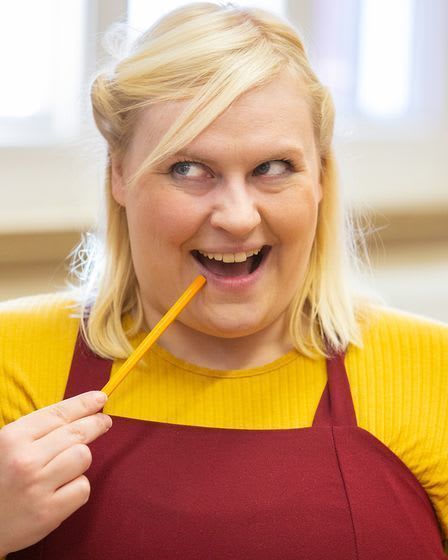 With the government in disarray and more restrictions being put on the table, I think we all need a good laugh and a chance to forget the world for a while, and Eastern Angles' latest Christmas offering From Rushmere With Love provides both.
This rollicking, fast-paced stampede through the James Bond genre is genuinely funny in a more witty way than some past offerings have been, with some clever pastiche songs written by Chris Warner and an amazing number of costume changes from the energetic cast of four—this is entertainment with a capital E.
The basic storyline follows the arrival of 006 James Boond—played with suave panache and an incredible haircut by Herb Cuanalo—to investigate strange goings-on at the Ipswich RSPB where a number of members have disappeared. There's a plot afoot being orchestrated by Edie Effe (pronounced EDF), energetically played by Lottie Davies, involving radioactive turkeys and some Russian spies. Nuclear scientist Kitty (Alice Robinson), on the trail of her lost father, turns up to help Boond, as does Felix (Sam Ebner-Landy) from the American CIA. And off they go to Minsmere to try and find out what is going on, visiting a well known turkey farm, Sizewell Power Stations and Rushmere on the way.
If this all sounds mad, it definitely is! Director Ivan Cutting has taken all the best bits of Bond to spoof, so that due to licensing rules the main characters are now Spendapenny, M&M and QR. There are car chases on office chairs, plastic models of Bond on a parachute and mimed ski and motorbike chases to add to the fun.
The cast play a dizzying array of characters in quick succession while the story builds to some sort of finale where there seems to be a carnival in Cromer and EDF finally gets the bird.
It's all performed at 100 miles an hour and, in spite of a few first night glitches, the cast were obviously having fun, and the audience were too.
Eastern Angles has retained cabaret-style seating and table service during the interval to make audiences feel as safe as possible. If you want a thoroughly entertaining evening to relieve the gloom, get along to Sir John Mills Theatre—you won't be disappointed. You can also watch it live-streamed if you would rather experience it in the comfort of your own home.
Reviewer: Suzanne Hawkes