From Shore to Shore
Mary Cooper with M W Sun
On The Wire
Yang Sing Restaurant, Manchester
–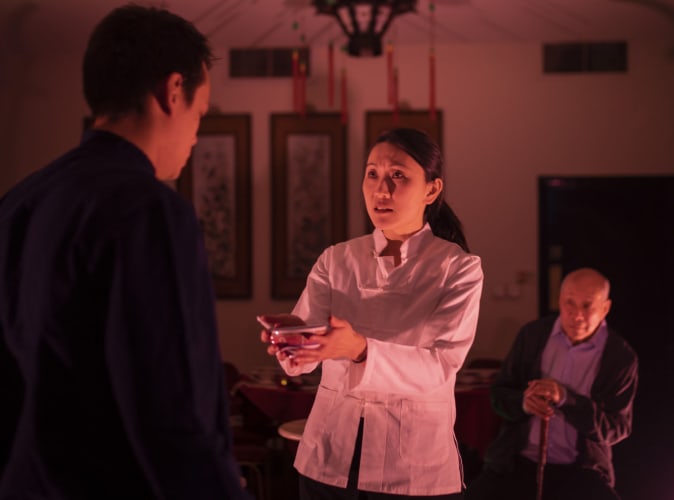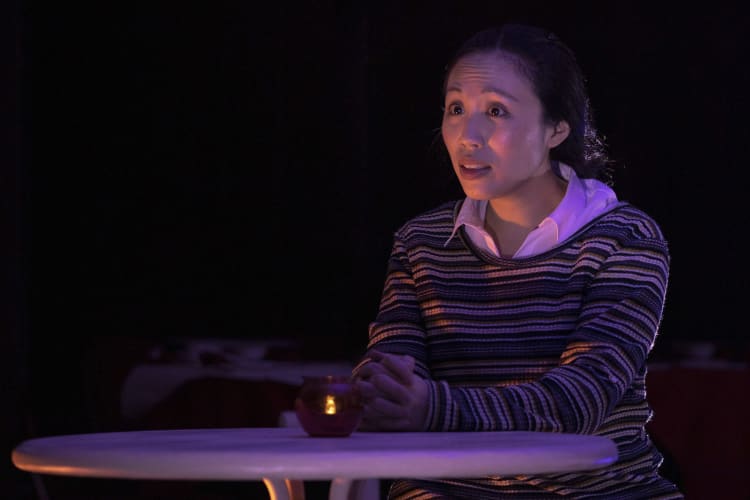 This production, directed by Yellow Earth Theatre founder David K S Tse, is a distant relative of what used to be known as 'dinner theatre'—although it never took off in the UK as much as in the US—but for this play the food (and the Chinese catering industry behind it) is integral to the stories being told.
Seated around tables surrounding a cramped playing area, the evening begins for the audience with soup and a lot more conversation with fellow theatregoers than when you are seated in rows in a darkened auditorium. Then the play runs for about an hour and a quarter, before the lazy Susan in the centre of the table is filled with main courses for everyone to dig into.
The play is based on genuine migrant tales that have been collected from Chinese communities across the UK, but it is rooted in Leeds. The opening bombards the audience a little with bits of different stories, until it gradually becomes clear that the main focus is on just three Chinese-Yorkshire people from different generations, jumping backwards and forwards between their stories until the end, when they are all woven together neatly.
Mei Lan (Michelle Yim) was born in Leeds but is sent to Hong Kong to be brought up by her very strict grandmother with her brother. They eventually return, still children, to help in their parents' takeaway, but it is a far from happy home. Yi Di (Luna Dai) was born in China just after the Cultural Revolution when the one-child policy had just been brought in, and her father was so disappointed that she was a girl that he refused to go to his wife's bedside when she was born. She comes top of the class in everything, trying to please him, but he always finds some way of putting her down, so she goes to the UK to study for a PhD.
Cheung Wing's story is told differently to the rest. While the others tell and perform their own stories, Ozzie Yue plays the character as an old man—telling the story of his childhood in China, of getting separated from his mother when they were escaping from the Japanese and being captured and sold to work for years as a servant before being found and rescued by his uncle and reunited with his mother—while Matt Lim plays his younger self. This is the story that opens the play and also closes it by bringing all three characters and their families together.
The script is mostly in English with passages of Mandarin and Cantonese, but it is always clear what is happening even to the monolinguals in the audience. Most of the cast play multiple roles—as well as the above mentioned, Alice Lee plays the mothers of all three characters, Windsor Liong is the fathers of both girls amongst other roles and Lucy Lan Luo fills in a few other characters—but changes in character are skilfully performed so there is never any confusion.
Although the play jumps between different stories in a very short running time, these are characters that feel real and that you can grow to care about. The parts that work best are moments of straightforward storytelling and extended scenes between characters; the moment when young Cheung Wing is reunited with his mother is subtly played and sparse in dialogue but all the more moving for this.
For the Chinese communities whose stories these are, it is important that their heritage is kept alive in some way, and this play plays a small part in doing this; for the rest of us, these are well-told tales that give a small insight into a culture that often seems alien to us in an entertaining evening that also includes some good food—all for the price of a decent seat for many theatres in the region.
Reviewer: David Chadderton