Frostbite : Who Pinched My Muff?
Gareth Joyner
Garden Theatre
Garden Theatre at The Eagle
–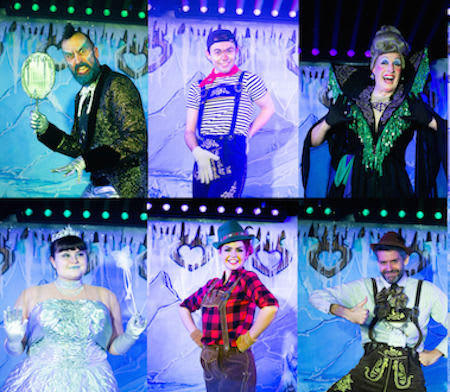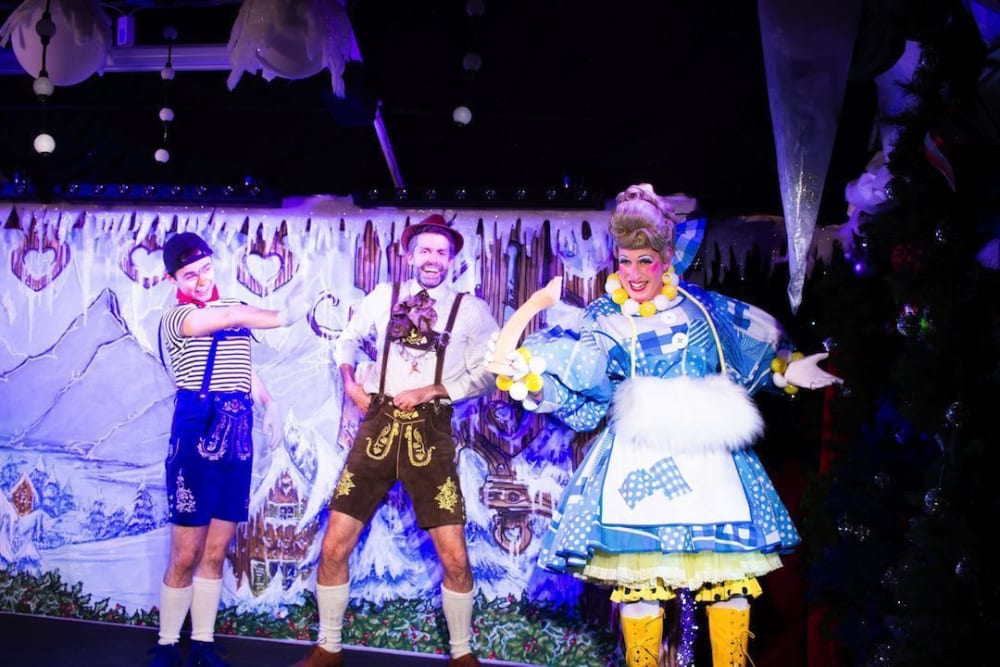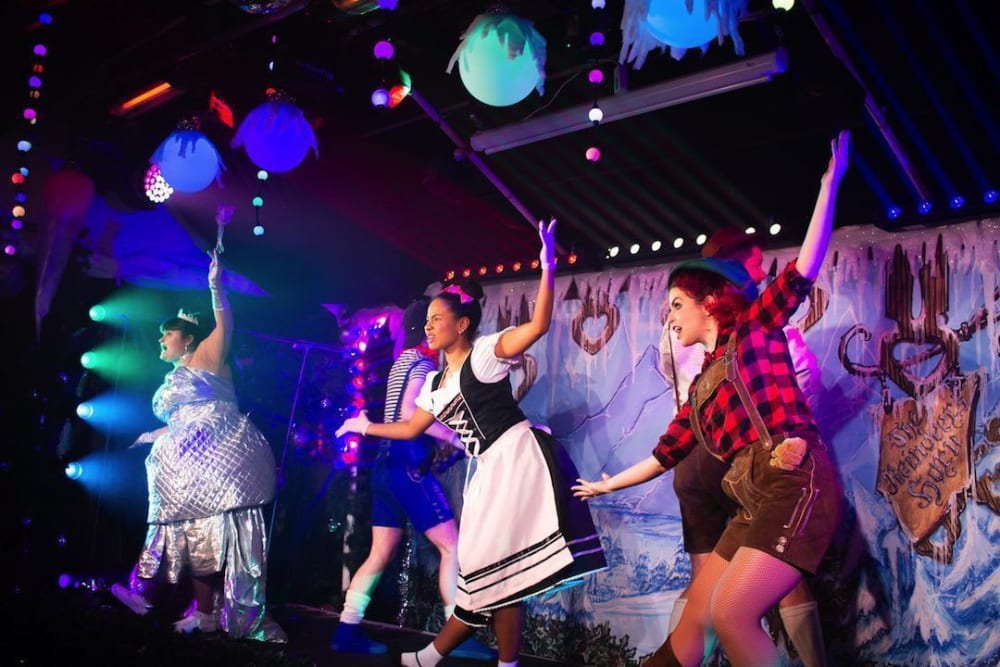 It isn't often (never before in my case) that you come across a panto named after the baddie, but Frostbite is the demon in Gareth Joyner's lively new one. It's not a fairy story I know but an original, set in the alpine village of Vaüxhallen, which puts him in competition with Fairy Snowflake. He is out to corrupt the innocent and make them evil, while she tries to stop him.
Frostbite picks on Dame Herda Gerda, who runs a hostelry—the Reindeer Horn—as his prime victim. That is where the Muff comes in, for she's the Dame, played by an old hand at the game, Dereck Walker, full of spirit and flaunting a full wardrobe.
Fairy Snowflake is Kingsley Morton, fresh from Arts Ed and making her professional debut, but she plays like a seasoned trooper, which is what you might call Nathan Taylor relishing the role of wicked Frostbite. One in silver, one gold-clad, both performances are full of sparkle (and from him a bit of roaring).
Principal boy is Garbo Gerda, handsome son of Herda, played with thigh-slapping brio by Shelley Rivers. He's fallen for the local Bergermeister's daughter Greta (Bessy Ewa, also recently out of Arts Ed) but her dad (Tom Keeling) wants a more advantageous marriage for her.
This may be a new story but, as you see, it's already full of traditional panto elements, and to them is added the magical character of Lumiukko. He's a snowman, or rather snow boy, brought to life by Fairy Snowflake's magic and given some magic powers himself. One of this panto's tropes is the audience warning him whenever someone turns on the heating. James Lowrie brings him to stage life as a charismatically camp young Scots lad who keeps reminding us he loves a cuddle and takes every opportunity to break into dance. He's a natural in leading a song sheet sequence with Dame Herda.
Though social distancing rules out real cuddles, there's lots of lively dancing and splendid singing, despite a small stage, and plenty of participation. Both Lumiukko and Herda are expert at handling audience interventions with comic ad libs.
Given the location, it probably isn't necessary to point out that this is an "adult" panto with a decidedly gay flavour. There is an hilarious re-rendering of "The Twelve Days of Christmas" that features lockdown essentials and a selection of sex toys that had the audience in delighted uproar, but though sexual reference are blatant this show isn't raunchy. Lumiukko makes some sharp comment about sexual identity and it's a revelation about sexual orientation that provides a happy ending, but its mood is remarkably innocent.
Reviewer: Howard Loxton