Frozen
Bryony Lavery
Library Theatre, Manchester
(2008)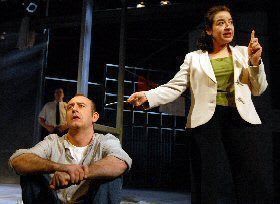 Bryony Lavery's controversial play set around the disappearance of a young girl and the subsequent discovery of her body, many years later, has been given a fresh new treatment by Roger Haines at the Library Theatre.
In 1980, 10-year-old Rhona goes missing on the way to her grandmother's house; her mother Nancy takes us from just before this terrible event to her creation of a support group for the families of missing children to the discovery of her child's body many years later. Alongside this, the Big Bad Wolf of the story, Ralph, tells us his side and talks us through some of his other abductions. Interspersed with these chronological stories are present day scenes featuring American / Icelandic criminal psychologist Agnetha, who has recently lost a much-loved colleague due to the actions of a drugged-up lorry driver and ends up studying Ralph in prison.
There are a lot more laughs in this dark tale than might be expected, given its subject matter. It begins as a series of comic monologues, and the monologue form continues for much of the play, until a lecture on the criminal mind by Agnetha takes us into her actual conversations with Ralph and later with Nancy. This makes the characters' speech more analytical as it puts an emotional distance between the events themselves and their delivery to the audience.
Central to the production is an incredible performance from John Killoran as Ralph. There are no clichés here of an evil psychopathic child-killer in the writing or the performance; Ralph is portrayed as neat and methodical in a military way, often charming and funny and at times as dangerous to deal with as a hungry lion or as vulnerable and bewildered as the children he killed.
Joanna Bacon is also excellent as Nancy, showing us the remarkable range of emotions and opinions that the character goes through over the years from determination to despair to a need to help others in a similar situation to a desire for revenge to an attempt at forgiveness. There is a point where we see her physical deterioration and brutalisation after what she has been through, but she comes back to her old confident, witty character if changed and wiser.
Mia Souteriou probably has the most crying to do and manages to get plenty of laughs from it in some parts and does a good job of portraying Agnetha. There is even a nice subtle performance from Joe Ransom as the non-speaking prison guard.
There are many points of controversy in this play. For one thing, there were accusations of plagiarism from the American psychologist whose real experiences were used as part of Lavery's research. In the play, it could be controversial that the psychologist considers some people who do terrible things to be ill rather than evil and not necessarily to be punished; it could be controversial to portray a paedophile and child-killer as human and quite likeable, or even for the mother of a murdered child to get on with her life and be able to laugh and crack jokes as she did before.
However opinions have no real strength or value if the people who hold them do not know and understand what they are arguing against. This play is a fascinating study that presents so many facets to this issue that there is plenty of food for thought for anyone, whatever their views. The Library has produced a tender but intense production of this play — which touches on some of the ideas of criminals meeting their victims in A Conversation, seen at the Royal Exchange last year, but goes beyond this — that certainly tends more towards the intellectual and analytical than the emotional but is no less engaging for that and, in some ways, more valuable.
Until 26th April
Reviewer: David Chadderton