Fucking Men
Joe Di Pietro
The Steam Industry
Finborough Theatre
(2008)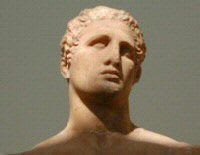 This play by an American writer, which had its world premier in the form of a workshop at the Finborough earlier this year, now gets a full scale production. It takes its form from Arthur Schnitzler's La Ronde and, like that, presents a sequence of erotic encounters in which one partner moves on to the next until the last scene returns to the person with whom it begins.
The encounters start with a young male street prostitute and a soldier, supposedly experimenting with a first homosexual experience. The soldier meets a college graduate in a bathhouse, he gets propositioned by a student he's coaching who picks up a teacher in a settled relationship; we then see him with his partner, then the partner with a good looking guy he's taken back to a hotel room who turns out to be a porn star, he meets a playwright who in turn finds a movie star coming on to him. The actor then visits a chat-show host - not this time for sex but to talk about outing himself on his show, and finally the television journalist hires the prostitute now working through an escort agency.
This is not a titillatory show, though some of the cast are certainly good-looking men. There is no nudity and any sexual acts are performed off-stage or discretely shielded from audience view. It is a play that explores the pattern of gay relationships and attitudes to fidelity and promiscuity, though that exploration is only a cursory one. The play's interest lies more in the range of characters and attitudes, the pattern of the relationships and the actual performances, though I couldn't help wondering why author or director Phil Willmott (a dramatist himself) decided to make the playwright such an outrageously fluttery queen - especially since it is he whom the butch-looking film star asks to fuck him - though the actor does say he likes 'to have sex with geniuses, no matter what they look like,' and sexual behaviour is not always what appearance suggests.
Not all the characters are nice but spectators, gay or straight, will find some behaviour with which they will identify and others they will recognize as matching that of their acquaintance and Di Pietro and the director have created an occasional overlap between episodes that stops this from being a repetitive sequence. There is some excellent playing, especially Adam Unze as the bashful porn star (though perhaps it is a bit of a cliché to make him the one who's so eager to be monogamous) and Patrick Poletti's journalist whose scenes help give an overview of an 'America where it still matters what you do with your dick.'
The play is leavened with humour, whether everyone clicking their remotes to watch the actor's chat-show interview or a man using E.M. Forster's 'Only connect!' as what drives his promiscuity. 'Everyone has their private deal,' is how the play seems to sum up relationships but there is some charm in a fairytale ending with the rent boy and the soldier who once beat him up set up as a happy monogamous marriage for the future.
At the Finborough Theatre until 7th June 2008
Rachel Sherodan reviewed this production at the King's Head when it transferred in 2009
Reviewer: Howard Loxton