Fungus the Bogeyman
Raymond Briggs, adapted by Marcus Romer
Pilot Theatre
York Theatre Royal
(2008)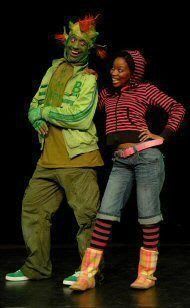 Pilot Theatre go all out for green in this soiled and slimy production of Fungus the Bogeyman. Although it's over twenty years since this reviewer read and loved the original books, expectations were high for a cherished childhood classic. Highly memorable was the soulful and reflective qualities of Fungus the Bogeyman in the books who pondered the reason for his existence and questioned his role frightening humans in the dead of the night. Undoubtedly one of the things which make the author Raymond Brigg's writing so popular is the fact that he never patronises his young readers.
Pilot Theatre's production, however, is quite different. This is an all out energetic, singing, dancing, pantomime of a show. Ali Allen's impressive set splits the stage into two levels, with the dark, dank world of the Bogeymen down below and the sterile, clean world of us, the 'dry cleaners' up above. As my young companion later concluded, "I want to live in Bogeydom 'cause it's fun there with lots of pipes."
Fungus the Bogeyman (Eamonn Fleming) lives with his wife Mildew (Joanna Swain) and son Mould (Michael Lambourne) underground. Sleeping during the day and waking to work at night, scaring children, waking babies and generally making all things go bump in the night, Fungus decides on this particular evening that he will take his son with him to learn the ways of the Bogeyman. However Mould's youthful ways lead him astray and he meets Maxine (Ebony Feare), a young dry cleaner of the world above with an obsessively cleanly mother Miriam (Melody Brown). Both sets of parents have to overcome their prejudices and work together in order to find their lost, loved children.
Added into the mix of snot, slime and grime is a number of high energy songs such as 'Bogey Wonderland', 'Blame it on the Bogey' and 'You'd better Stink' by Ivan Stott. These were great crowd pleasers to the audience filled with school parties on the afternoon we attended, who clapped along to every number, regardless of rhythm or tempo, some of them even getting up to dance in their seats. I had the strange feeling that this must be the under-ten version of attending rock concert!
This is certainly a talented cast with superb voices amongst them, and, despite some mistiming from their narrator (Riannon Meades), they work their way valiantly through a packed script. At one point it seems that green issues ('Bogal' or global warming) are going to become a central theme but, as with everything else, this is touched on and leapt past at great rate, and the cast are on to another show-stopping number. The sparky Feare, playing Maxine, along side the rubber faced Lambourne, compliment each other well and provide the central action of the plot. And what with the bickering between Mildew and Miriam, Fungus himself is somewhat sidelined.
Translating a book to stage is always a difficult task but this production again brings up the question of whether children need high speed entertainment from the stage, which effectively resembles pantomime, or whether they can enjoy something more subtly presented. Having recently seen Kneehigh's fine production of Rapunzel I wonder if Pilot wouldn't have done better to have been more faithful to the book and drawn their young audience into a dark, underground world rather than jazzed up the Bogymen to become soft rock stars.
At York until 22nd March, then touring to Ipswich, Crawley, Winchester, Hayes, Westcliff, Poole, Swindon, Leeds and St Andrews
Reviewer: Cecily Boys