Funk It Up About Nothin'
Created and directed by The Q Brothers
A Chicago Shakespeare Production
Theatre Royal Stratford East
(2011)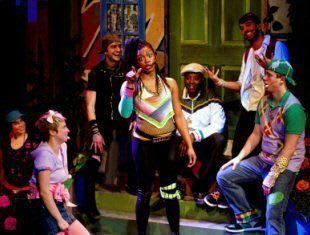 Described as 'an ad-rap-tation of Shakespeare's Much Ado about Nothing', this is by a pair from the team that produced the earlier success, The Bomb-itty of Errors, based on The Comedy of Errors. That show probably included more of the Bard than this does, for it is not really an adaptation but a rewrite loosely based on Shakespeare's plot of one couple who refuse to admit they could love each other and another whose fairytale romance is called off due to treachery. Shakespeare pinched plots frequently himself, so it's in line with long-standing practice.
The emphasis shifts from Beatrice and Benedick to Hero and Claudio, plenty trimmed away and, even with loads of additional gags and raucous choruses, it still runs straight through at less than 80 minutes. Much of it is taken at breakneck speed and that, added to sometimes impenetrable Chicago accents, doesn't exactly make for clear story-telling, but that doesn't seem to be the point. It is a zany romp of high-energy rap, hip-hop and posing which at one point we are told is taking place in Messina but looks more like the territory of a Chicago street gang, a boarded lot next to an old house bedecked with roses, which, along with window frames and doorways, frequently turn fluorescent as the lights fade.
Ericka Ratcliff's Lady B(eatrice) is formidably sassy, JQ's Benedick quite a gentle soul; if there was any early emphasis on his bachelor stance I missed it. The plot to set Lady B and Benedick up to each believe the other loves them is there but I almost missed that too, the dialogue goes so fast! Though later we get a refrain of 'How I love my life' followed by his 'I don't want a wife!'
The tricking of Claudio into believing Hero unfaithful to mess up their wedding is blatantly staged with a blow up sex toy and the humour is on that unsubtle level; GQ's Leonato has had three hip replacements and haemorrhoids that are on fire. Jillian Burfete makes Hero is a perky little number who can stand up for herself and Jackson Doran's Claudio is a likeable but not too clever boy next door rather than the dashing juvenile.
The high spot for me is Postell Pringle's outrageously camp Verges who seems to have taken over Dogberry's role as head of the watch leading his posse of policemen. Much funnier than I have ever seen anyone make the original.
This is a show that had some of the audience howling with delight but I can't be quite so enthusiastic. It is not that I don't like rap and hip-hop (and this venue has hosted some of the best) but if you are going to rework Shakespeare, I'd like to see it do more than just have fun. The lyrics here may be clever (and frequently as bawdy as Shakespeare) but the comment on male-female relationships, of bored soldiers on R & R of the original is missing and there seems nothing solid there to replace them.
I don't really agree with the premise that directors GQ and JQ offer in the programme that this is the way of putting Shakespeare in the hands of everyone, for Shakespeare is not his plots but what he does with his characters and his language. The Qs were discouraged by their first attempts at reading Shakespeare as they found him like a foreign language. Not nearly as foreign as I found Chicagoese! And you should never ask a child to read Shakespeare. Take them to see plays acted; then they may want to read them later. Let them discover the poetry; don't force it down their throats. Of course some words aren't in the average modern vocabulary but if the actor knows what they mean and colours them accordingly you'll get the meaning and if you are stuck on a word when reading there are dictionaries - it's much easier than trying to cope with chemical formulae surely!
But hey! Forget Shakespeare. With the cast of six working their sox off, doubling as well as the roles I've mentioned (so that at one point there is no judge to perform a marriage ceremony because he already playing the bridegroom) and with DJ Adrienne Sanchez spinning non-stop, this is a show to take at its own values and enjoy.
Run ends 7th May 2011
Reviewer: Howard Loxton