Funny Girl the Musical
Music by Jule Styne, lyrics by Bob Merrill, book by Isobel Lennart from an original story by Miss Lennart, revised book by Harvey Fierstein
Menier Chocolate Factory
Palace Theatre
–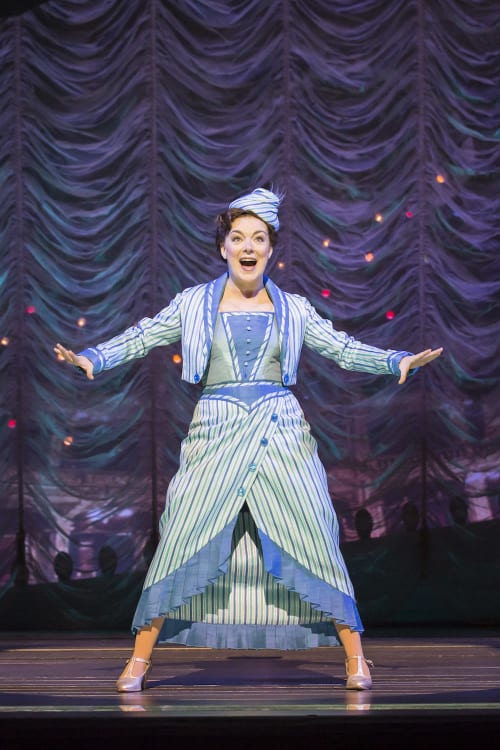 When it was reported that this Menier and West End hit was to go on tour, few people expected its star to travel with it, but the irrepressible, multi-talented Sheridan Smith is here in Manchester (although she isn't playing every date on the tour).
It's clear to see why this fairly mediocre show hasn't been revived since Barbra Streisand brought it to the West End in 1966 as it is a star vehicle that needs someone quite special to pull it off, and Smith certainly fits the bill.
The story is based on the life of Fanny Brice (Smith), a Jewish American performer from Brooklyn who proves quite quickly that she is no chorus girl but can charm a whole audience by herself with her comic songs and antics. She catches the eye of the great impresario Florenz Ziegfeld (Nigel Barber) who puts her in his Follies on Broadway, but not before she falls for the suave, sophisticated gambler and shady dealer Nick Arnstein (Chris Peluso).
Their relationship has many ups and downs, mainly due to conflicts in their choices of career: him always wanting to be away making deals—and wanting to stand on his own two feet, not take handouts from his successful wife—while she has tours booked to take her performance to her adoring fans. And there's a baby at home as well.
Throw in a bit of a love triangle with sweet dancer Eddie (Joshua Lay) who adores her but she doesn't think of "in that way" and a pushy Jewish mother (Rachel Izen) with gossipy neighbours (Jennifer Harding and Myra Sands) and you have a formula for a classic Broadway romantic comedy, but somehow it all seems a bit thin.
And this can't be entirely blamed on the book, which has been revised by Harvey Fierstein but still doesn't really hang together. Jule Styne has produced a great Broadway jazz score and Bob Merrill's lyrics are intelligent and well-crafted, but the only songs I came out singing were the ones I knew already: "People" and "Don't Rain On My Parade". These are great songs, but none of the others really stands out.
However Michael Mayer's production makes the best of what he has with a uniformly excellent cast, and Richard Brooker has managed to coax very clear sound out of the acoustically difficult Palace Theatre, especially from musical director Ben Van Tienen's full-sounding pit orchestra.
But this is basically a vehicle for a talented performer to show what she can do, and Smith fits the bill admirably. She can put across the comedy routines and make them genuinely funny and still be moving in the more serious moments. Her musical range—from a tender, quiet rendition of "People" to the joyous belt-out of "Parade"—can certainly match anything Streisand ever did (exceeds it, in my opinion). The standing ovation, not unusual these days at a Palace press night, on this occasion seemed spontaneous and was much-deserved.
While the show itself may not be exactly a classic, it's certainly worth a visit to the Palace to see one of the UK's brightest musical theatre stars at the height of her powers.
Reviewer: David Chadderton