Gabriel
Samuel Adamson
Shakespeare's Globe
–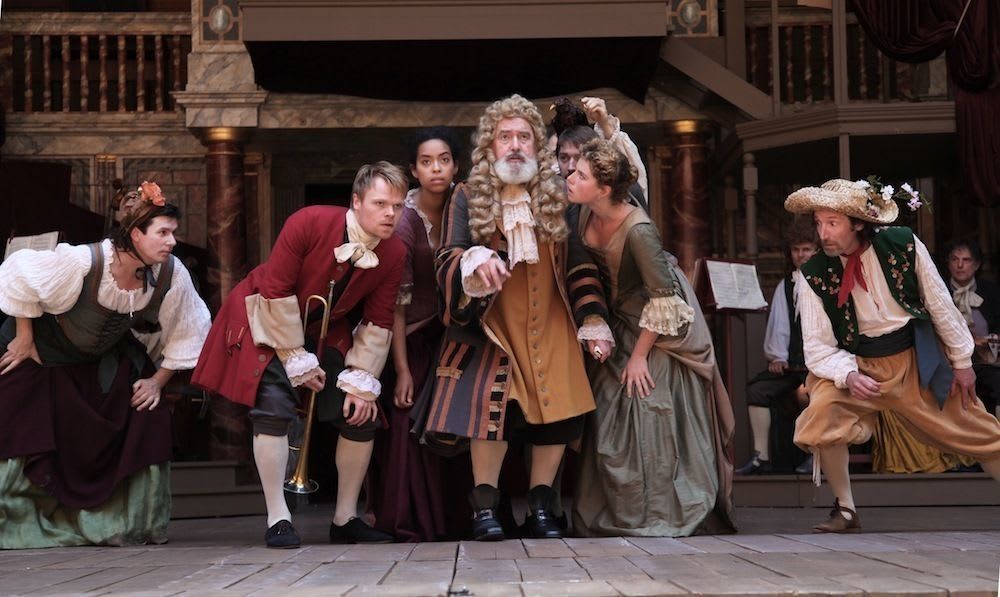 Below the title, the Globe calls this "An entertainment with Trumpet" and that's a better description than a play, for it is almost a variety bill in its succession of musical numbers, historical anecdotes and playlets—but what an entertainment! It is a feast of gorgeous baroque music and bravura theatrical performance.
Star trumpeter Alison Balsom expressed a wish to appear at the Globe and its director Dominic Dromgoole commissioned Samuel Adamson to create something to facilitate that. Gabriel—the title's source is obvious—is the result with Balsom, who is also credited as creative producer, at the heart of the show on trumpet.
"Sound the trumpet" trill the counter tenors in Henry Purcell's 1694 Birthday Ode for Queen Mary. At that time, Purcell was writing brilliantly to exploit the skills of some accomplished players of the natural trumpet. It is entirely appropriate then that it is in Purcell's London that Adamson sets his scene. Some of his play is his invention but he has also has unearthed some fascinating episodes forgotten in most of our histories and then mixed them all together with some glorious music, almost all of it Purcell's.
Adamson uses a real person, John Shore, to introduce the show—a trumpeter of course, son of a trumpeter and brother of one too. "I have few words," he says, holding out his instrument, "my voice is heard through this." Richard Riddell's John keeps popping up, a linking thread throughout the evening.
The Shores were a family of virtuoso trumpeters at court and they become part of the tale. Boozy elder brother Bill is said to play so sweetly even when completely sozzled—and sozzled he often is; at one point a tart manages to divest him of all his clothes and abandon him. Hilariously played by Trevor Fox, he rushes about naked with privates hidden in his instrument (though that is probably one of the dramatist's inventions).
That's not the only bit of bawdry. There's a delicious scene in which a lady at the theatre thinks she is being pleasured only to discover, when the man has gone, that it was her purse that he was after beneath her skirts.
There is a cocksure rake (William Mannering) who thinks he is irresistible to women but who gets his come-uppance when he makes a bet that he can bed the Queen's favourite singer, the soprano Arabella Hunt. Unlike the audience and the men with whom he makes the wager, he is unaware that she is widely known to be a lesbian who some years earlier had married another woman at Marylebone parish church (though the "groom" passed herself off as a man called James Howard).
Then there is Thames waterman Francis who thinks he has been cuckolded when another boatman (James Garnon), fed up with his non-stop name-dropping spiel, gets his own back by claiming he has had his wife. Sam Cox sustains an extended non-stop rant as Francis, outdoing any modern taxi driver with the number of celebrities he's carried in his boat.
High on the musicians' gallery on opposite sides of the stage are portraits of the monarchs King William and Queen Mary and a less formal Mary, looking imperious but warm and comfortable in private, is played by Charlotte Mills. She rather spoils her hydrocephalic nephew William, Duke of Gloucester (Joshua James), her sister Anne's surviving son, who was to die before he had reached 12. This lively lad, who can't wait to be grown up, is another trumpet enthusiast.
There is Christopher Rich (Matthew Raymond), manager of the theatres at Drury Lane and Dorset Garden, and his hard-done-by company led by Thomas Betterton (Pip Donaghy) that provide a show-business story of a mixed-up muddle of lovers and some coaching in contemporary histrionic style as well as a tongue-in-cheek recreation of a scene from Purcell's The Fairy Queen.
These and several other storylines make a rich mixture of fact and fiction both poignant and amusing but it is the music that is the real glory of the evening. Even that includes a song about farting, but with Trevor Pinnock as music consultant and directing rehearsals the musical performance is taken very seriously.
There is a splendid band that includes instruments such as theorbo, sackbut and baroque guitar and a hard-working company of good voices led by Jessie Buckley as Arabella and William Purefoy as the countertenor who seem to be loving it every bit as much as the audience.
It may not be a great drama but it is a truly joyous experience for everyone.
Reviewer: Howard Loxton