Gagarin Way
Gregory Burke
Ustinov Studio, Bath
(2009)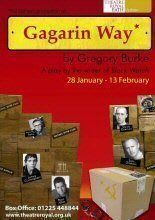 In the Ustinov's latest in a string of revivals of stunning Scottish writing for theatre, Andrew Smaje produces Gregory Burke's brilliantly received debut play, Gagarin Way. Smaje, Artistic Director, continues to define the Ustinov as a space committed to staging second productions of new plays, following recent success with David Grieg's Outlying Islands and Alan Wilkin's Carthage Must be Destroyed.
Gagarin Way is more than worthy of a revival. I wouldn't be the first to admit to feeling awe-struck by this, Burke's first play: it was a reaction much expressed by the critics after its premier at the Traverse in 2001. But eight years on, having lived through 9/11 and 07/07 and with the world now in the throes of economic crisis, the text strikes home more powerfully than ever. Burke may see his play as having "conformed to all the ego-inspired faults that characterise a first play", but from where I sat, those faults were hard to spot.
Lorne Campbell directs this flawless production, returning to the Ustinov after his triumphant revival of Carthage Must Be Destroyed. The play is set in Fife, in a town called Lumphinnans, which boasts a communist past and which, in the 1930s, returned Britain's only communist MP.
Against this backdrop, Burke presents us with four brilliantly observed characters. Eddie is a self-educated factory worker who trots out empty rhetoric with conviction and dismesses Satre as a, "c**t [who] came up with some snappy titles". Sandy Grierson pitches Eddie's angry, opinionated likeablity perfectly, maintaining a heady scent of danger from the opening scene.
Ross Allan plays a nervy Tom, a naive security guard and former political science graduate, who thinks he knows politics but proves no match for Eddie's razor-sharp mind. Gary (James Cunningham) is compelling as a hard-working, disillusioned factory worker, long since crushed by the injustices of the world he lives in. Eddie, he says, is his saviour: he gave him a cause worth fighting for.
But their attempt at making a stand doesn't go according to plan. Tom at first colludes with their apparent plan to nick a few boxes of computer chips. In fact Gary turns up with a kidnap victim, who turns out not to be a Japanese representative of all that's wrong with global capitalism, but a world-weary Frank, (Sam Graham). A middle aged, middle class, divorcee who for all his wealth and career success, is every bit as disillusioned as Gary.
Graham's Frank cuts down his kidnappers' 'cause' with nonchalant ease, despite the gun at his temples. While Gary ponders the rights & wrongs of murder vs. direct action, Eddie admits that in fact he has "always been interested in violence", making light of the political convictions with which he first drew Gary in: "I'm quite partial to a Big Mac, which kind of disqualifies me from the anarchist movement".
This is a stunning production of Burke's razor-sharp political drama, with all the comic banter and breath-taking violence of a Tarantino movie.
At the Ustinov until February 13
Reviewer: Allison Vale