The Garden
Graeae Theatre Company & Strange Fruit
St Alfege Park, Greenwich
(2010)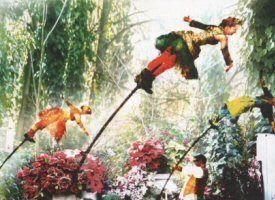 What could be more delightful on a sunny day than this gentle entertainment played on and around a racked platform before an audience sitting on the grass of this deconsecrated churchyard plot?
It introduces us to a series of 'Keepers' of different aspects of our lives and creates three more in the characters of the stories that it tells after first making a dedication to those who have gone before here, both the famous, such as composer Thomas Tallis buried here, and the many ordinary people.
It is a simple piece of illustrated story-telling, introduced with lilting song, spoken and signed, with four benevolent moral guardians swaying skilfully as part of the action of huge bendy poles set around the stage. Its three parables are not made too explicit but are an encouragement to be at one with nature, to share our world and its beauty, to use our intelligence and gain wisdom and of course, like all of Graeae's work, it shows people with handicaps ignoring them to create something which in this case is beautiful, not least the elegant signing, though that too is something we have come almost to take for granted with this company.
It only lasts for half an hour but is so joyful that it is well worth catching for you can't help but feel good afterwards - at least in the sunshine we seem promised for the rest of its run.
It is free and has performances at St Alfege Park until 27th June 2010 as part of the Discover Greenwich Programme. It is also the first work to be performed commissioned a part of London 2012's Cultural Olympiad.
Reviewer: Howard Loxton